Easter, Eggs, Bunnies, and Writing
One of the sweetest holidays of all times is Easter. While kids will spend their free time mostly hunting for chocolate eggs, they can also use this time to boost their writing skills. Inspire your students to create stories related to Easter with the below 12 images and 8 writing prompts.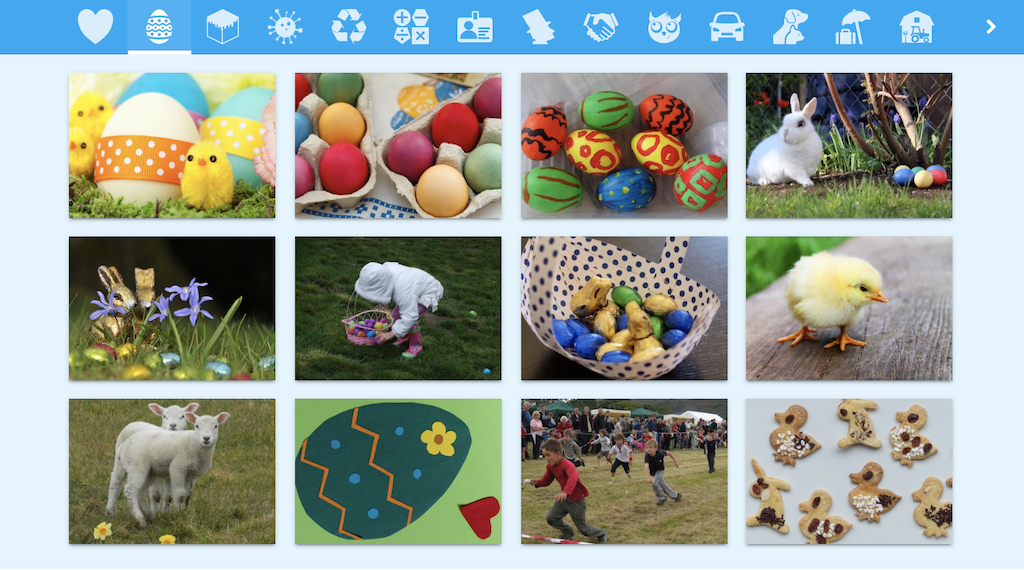 Why do we celebrate Easter?

How do you celebrate Easter? What fun Easter activities do you and your family do together?

Write a book where every page starts with the sentence: I love Easter because …

How do you decorate your Easter eggs? Tell about your favorite Easter colors, decorations, and patterns.

What questions do you want to ask the Easter Bunny if you met?

Out of all the candies you receive on Easter; which one is your favorite and why?

Tell the story about how eggs and a rabbit are related to each other and Easter.

Write your own story about how Easter Bunny met up with the Easter Crocodile (or other animal) and how they become friends.
Login on app.writereader.com to see and use the Easter image bank category. 
From Minecraft to Writecraft
Minecraft is super popular and the game's universe can inspire and motivate many students to create text and books. To make it easier we have created a Minecraft image bank category with 20 images, along with 8 prompts in different genres and modes of writing.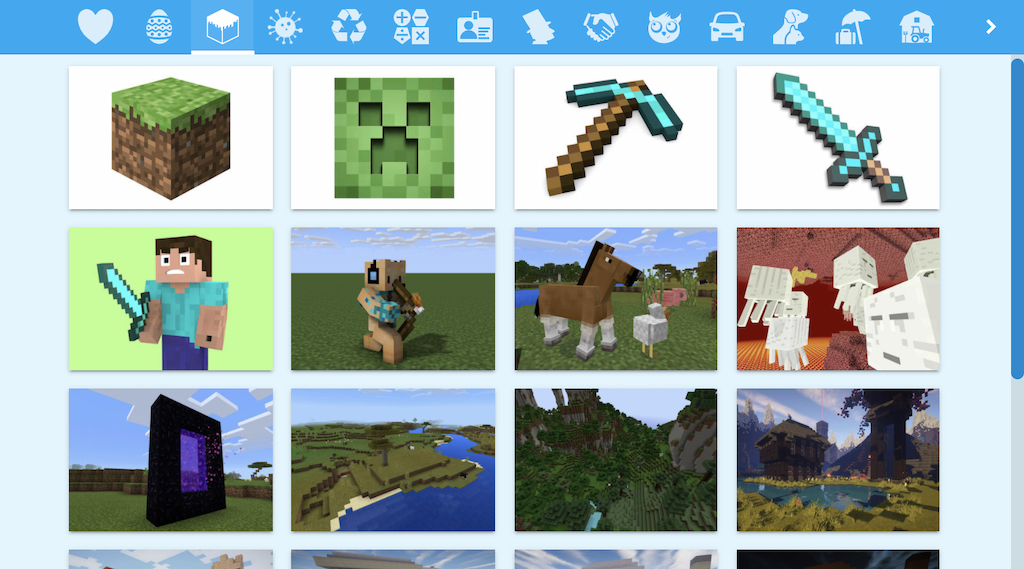 Write a guide on what Minecraft is all about for someone who does not know the game.

Make a step by step guide on how to build a house in Minecraft.

Write a book with 5-10 tips, tricks, or special features that can make Minecraft more fun and exciting to play.

Write a review of Minecraft where you highlight pros and cons of the game and compare it to other games you know.

If you were the inventor of Minecraft, what new features would you develop and why?

Tell about the difference between Survival mode or Creative mode. Which mode do you prefer playing and why?

Describe your best Minecraft project/game/moment and what made it so great.

Write a story about how Steve meets and befriends a zombie. Feel free to include other Minecraft characters and other actions.
Login on app.writereader.com to see all the Minecraft images.
We Love to Write!
February 14th is Valentine's Day, but why not spread love throughout the whole month? To help you and your students do that, we have made an image bank category with 20 images specially selected to create books and express love. We have also created 8 writing prompts with love from us to you.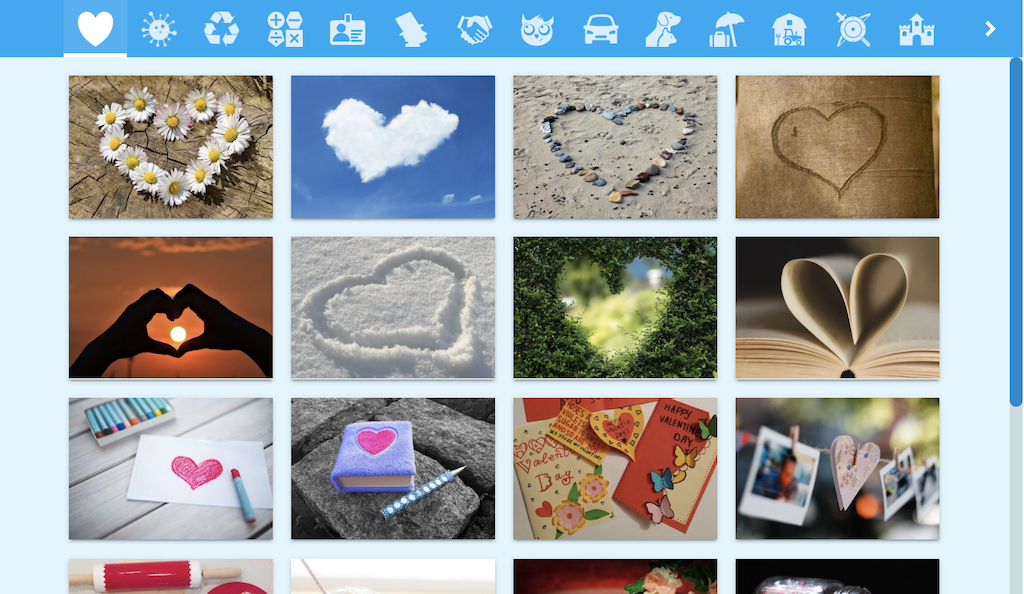 Write about a person that you love. What makes this person special?

Make a list of ways you could show your family that you love them.

Make a book about things you love the most and explain why you love these things (food, toys, books, etc).

Write about times when you felt loved. Describe what happened and why you felt special.

Write an

acrostic poem

starting the sentences with the letters from LOVE or HEART.

Write a book only containing sentences starting with "Love is…"

Write a silly love story about animals or other characters that are friends.

Write about ways to show love through kindness to your friends.
To get more writing inspiration read the blog post "February – The Month Of Love".
Do you feel like writing about emotions with emojis?
It can be hard for children to express emotions and put into words how they feel. The emoji image bank category can be a great way to help students express emotions through writing. Additionally, the writing prompts and story starters below provide ideas for supporting social emotional learning in your classroom using WriteReader books.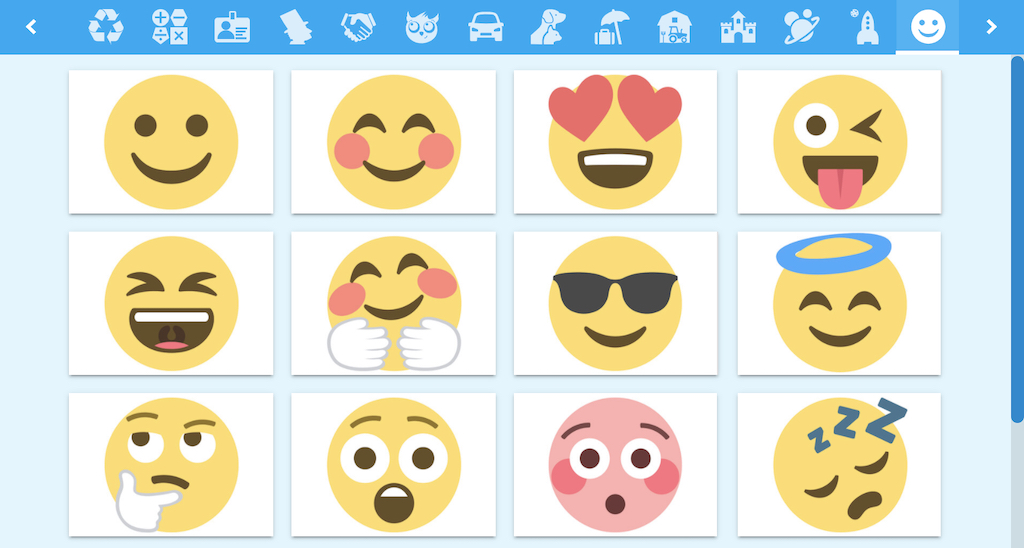 Make a daily or weekly check-in journal of your emotions

. Write about different feelings you have had and explain what makes you feel that way.

"Today I was happy because …"

What do you do to turn a negative feeling into a positive emotion?

"When I'm angry, I …"

How can you help and support a friend or classmate if he or she is in a bad mood?

"To help a sad friend, I …"

Choose an emoji and make a list of the top 5 things that can get you in that mood.

"Cool: 1. I feel cool when …"

Make a book with questions about emotions/feelings for one of your classmates and conduct an interview based on your questions.

"When do you feel surprised?"

Write a story with emojis as the main characters. Tell how emojis in different moods can help support each other.

"Three emojis lived together in …"

Tell a story about an emoji who turned from one mood to another. What caused the mood in the first place and what made the change? "There was once a thoughtful emoji …"
For more inspiration download our Emotions And Emojis Lesson Plan.
Tip: You can create templates to scaffold and support your students writing.
New Year's Writing Prompts
The start of a New Year is a good time to both look back on the year behind us, and forward to what is to come. Putting these reflections and resolutions into words can be a great writing activity for your students. We have created a New Year image bank category and some sample writing prompts below to inspire you and your students!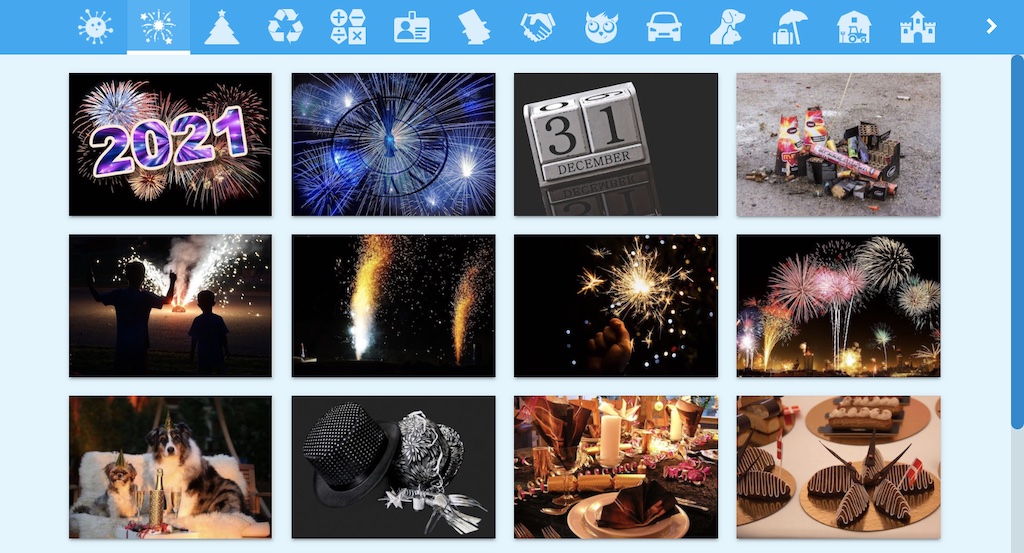 What were the best things that happened to you and your family in 2020? What were you most grateful for?

Make personal Top 5 books based on best films, books, school projects, events, experiences, trips, deeds in 2020 and tell why they were special to you!

How did you celebrate the New Year? Where were you and who were you together with? What did you do? Was the day different than usual due to covid-19? Why or why not?

What are the three things you are most looking forward to in 2021?

What are your main wishes for 2021 regarding yourself, your family, city/state, country and/or the world?

What are your New Year's resolutions for 2021? What will you need to do to keep your resolutions?

What are your learning goals for 2021? What will you need to do to achieve your goals? How can your family, classmates, and teachers help you achieve your goals?

What can you do in 2021 to show gratitude for and help friends, family and other people?
Login in on app.writereader.com to see all the New Year images and to begin writing your New Year's stories!
Thankful and thoughtful writing prompts
We've gathered a dozen images suitable for writing books about Thanksgiving, and hope the following nine writing prompts can inspire you and your students to write a lot of thankful and creative books.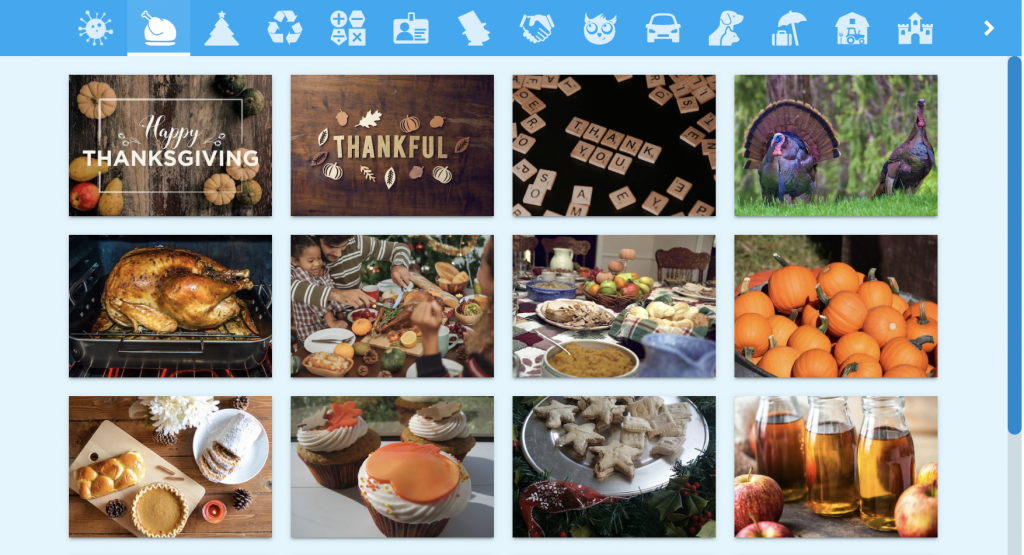 Write one page each for the five things that you're most thankful for.

Where does/did your family go on Thanksgiving and what do/did you do?

If you could choose any guest to come over for Thanksgiving, who would it be and what would you like you to do together with that person?

My favorite parts of fall are ____ because …

Write a recipe book for your favorite Thanksgiving dish.

What happened after the stuffed turkey suddenly jumped down from the table? 

Write a book with a Thanksgiving blessing to the people you love and want to thank.

Explain Thanksgiving to someone in another country, who has never heard about the tradition.

How will your Thanksgiving be different this year due to the covid-19 pandemic?
Login on app.writereader.com to see all the Thanksgiving images.
Images to support students writing about covid-19
In these special times, it's very important to give children a voice and the opportunity to express their knowledge, thoughts, and feelings. Writing is an obvious form of expression that allows students to share their thoughts and knowledge with others and at the same time save their experience of a historical time.
To motivate and facilitate that process, we have put together a series of illustrations and writing prompts. Encourage students to use the image bank, voice search, call outs (speech/thought bubbles), and record features to enhance their writing.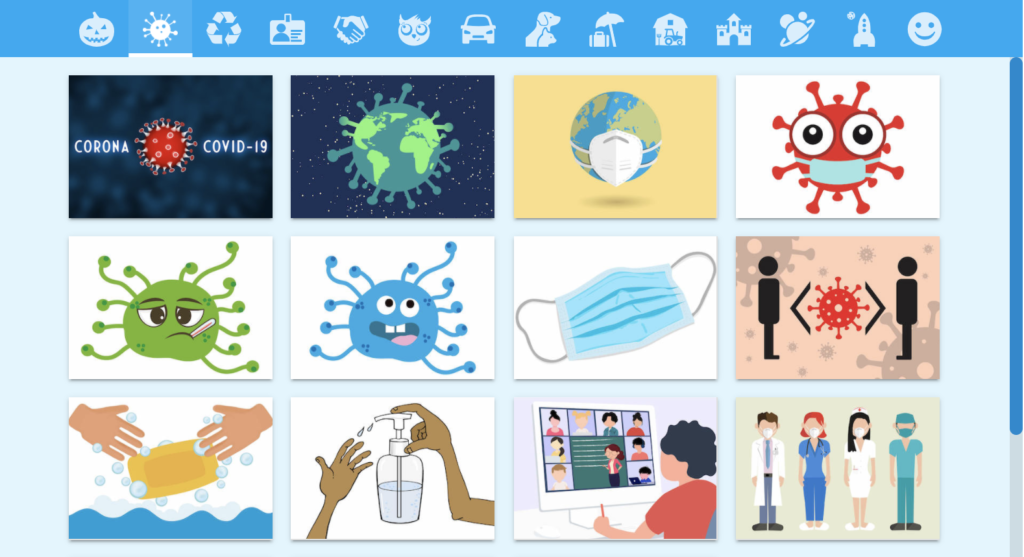 How has your everyday life changed after the pandemic occurred? At home, at school, in the community?

Write a guide on how to protect yourself, others, and your surroundings from the coronavirus.

Write a story about a superhero who saves a lot of people from the coronavirus and defeats the pandemic.

Tell about some experiences you have had during this time. How did you feel? What did you do about it? 

Write a letter to the school principal, mayor, or politician about how you think he/she has handled the pandemic so far.

Write a thank you book to doctors, nurses, and all frontline workers. 

Imagine that you invented the covid-19 vaccine and were allowed to decide who to give the first 1,000 vaccines to in your country. Who would you choose and why?

What has your family been doing together during the pandemic? Have you done something you do not usually do or something you have done more or less of than usual?
Tip: Create your own WriteReader templates and share them with your students.
Scary content for Halloween writing
For the month of October the following 20 new Halloween images will be available in the image bank to inspire spooky writing for your students.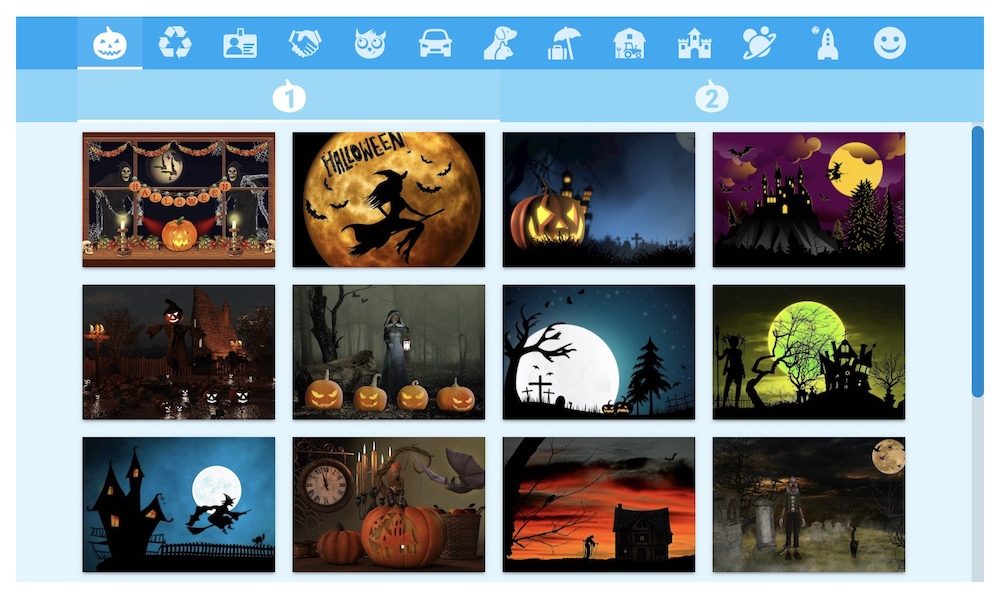 Here are 8 writing prompts that will help scaffold students writing.
What is the scariest thing that you have ever experienced? What makes it so scary?

What was the best Halloween costume you have ever had? Write what made it so special.

What was the best Halloween you ever had? What made it great? 

Explain Halloween to someone from another planet, who has never heard about the celebration. 

Create a list of corona safety rules for Halloween and Trick-or-Treating.

Would you spend a night in a graveyard or haunted house for $100? Why or why not?

Create and describe your very own monster. What does it look like? What's its name? What's its most scary feature?  

Write a scary trick-or-treating story, starting from the minute the main character puts on his/her costume and finishes when he/she puts on normal clothes again. 
Tip: Create your own WriteReader templates and share them with your students.