A number of years ago, there was a popular children's song that likened love to a magic penny, but it's only worth something if you give it away. This is so true. If you show love to others, it causes that love to grow and return to you. It also causes a ripple effect, just as if you dropped that penny into a wishing well.
February 14th is known as Valentine's Day. It's a fun holiday when we take time to express our love to those close to us. We might give or receive cards, flowers, or chocolates.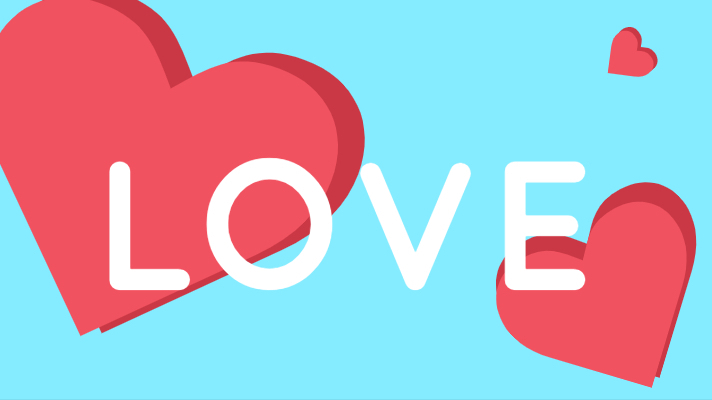 Playing Dress Up
WriteReader is the perfect platform for children to create cards for family, friends, or classmates and teachers. You can email the WriteReader book links to parents, who can then forward them to family who live far away. You can also print them to give away on the big day. Here's a few creative ways to 'dress up' the printed cards:
Add glitter.
Make pop-up cards.
Add Valentine's day stickers.
Print on colored paper, like red, pink, or lavender.
Create simple origami tulips and glue them on the card.
Insert black and white clipart images and then color them once printed.
Cut and glue paper doilies along the edge of the cover to resemble lace.
Cut and glue different sizes and colors of paper hearts on top of each other.
Don't add an image to the cover page. Cut and glue cupcake liners on the card; then, draw and color icing and sprinkles above it.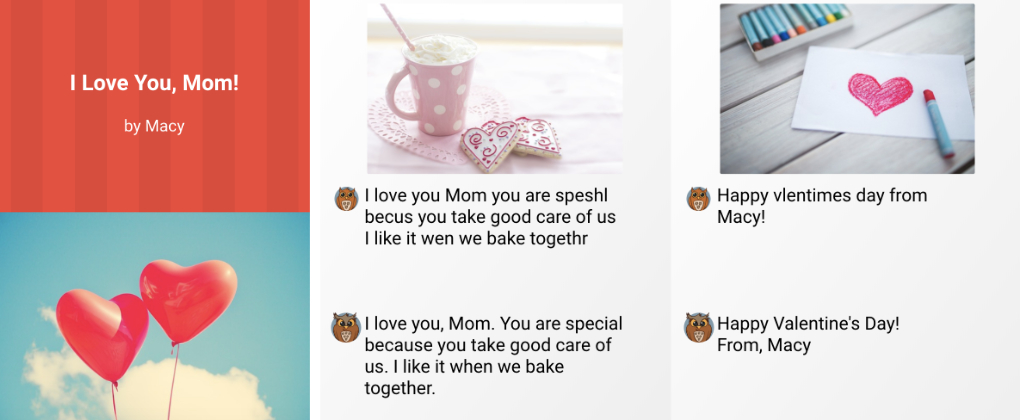 More than a Holiday
As we all know, love is not something that we show or celebrate only one day of the year. Many schools are focusing on love all throughout February. Social-emotional learning is supported in every curriculum around the globe and it is crucial that parents and teachers help children to grow in their capacity to love. Adults have much to learn about unconditional love from children too.
Let's get back to the notion of love rippling outwards. We can imagine that the ripples are love spreading outwards, but they can also represent our outer circles of care. Hence, the innermost circle is our family and the next circle is our friends. Let's explore some of the outer circles and how children can express their love to others through writing and actions.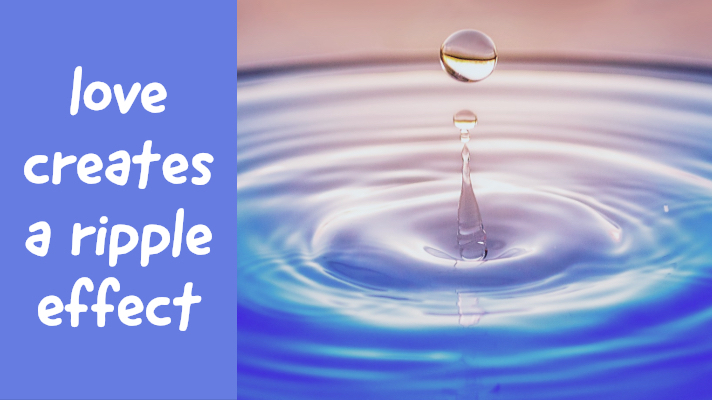 Circles of Impact
Everyone, no matter how young or old, can have an impact on the lives of others by showing love in tangible, practical ways. You might also wish to read the story book Ordinary Mary's Extraordinary Deeds by Emily Pearson as an example of this.
Love for our school community
Brainstorm ideas on ways to improve your school, such as donating your allowance to buy an outdoor buddy bench, raise money to buy a wheelchair swing, or paint a mural. Then have the children write about one idea that they like best using persuasive writing. Moreover, invite the principal to your class to present these ideas and come up with a plan together.
Love for the community we live in
Organize a school collection for the local food bank. They need food all year long, not just at Christmas. (In cold climates, a 'warm socks and gloves' drive for shelters is also a great idea.) Children can create flyers or newsletters about the collection using WriteReader and distribute or post them throughout the school.
Visit a local seniors' home. Children can make a few cards ahead of time to hand out to the seniors. They need not be Valentine's cards; just something to bring a smile to their faces and make them feel loved.
Write welcome notes to new refugees and immigrants.
Visit with a family who has had a recent loss. Sometimes, showing up is just enough.
Love for animals
Write about pets and how much we love them. Write about how pets show their love to us.
Research and write about endangered species and what we can do to protect them. Note: Even young children can engage in research by watching videos. Check out Kiddle – a visual search engine for kids.
Love of country
Students can write out the lyrics of their national anthem (home nation or new country).
Children can create cards for people in the military service and visit retired vets.
Love the earth
Write about the dwindling bee population. Buy some native wildflower seeds to plant in the spring. Research and write about these flowers.
Talk about environmental concerns together. Write about how small actions can have a big impact if we all do it. Spread some love for mother Earth!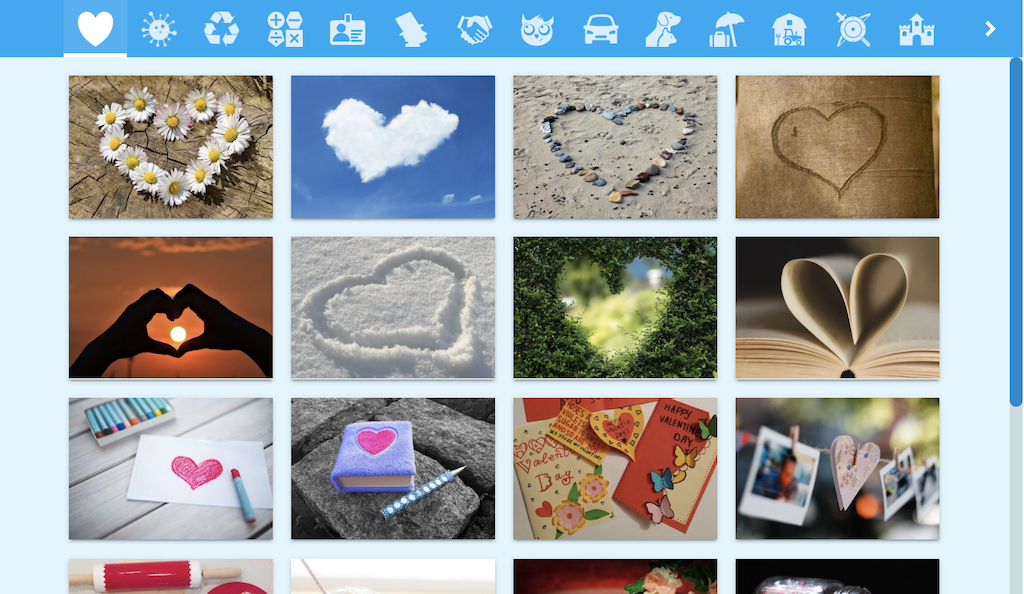 The image bank and prompts section provides more ideas for spreading love! So go on, write and make the world a better place. After all, love is something if you give it away! You'll end up having more.