White Label Literacy & Book Publishing Application
for Publishers, Libraries, and Brands
Are you looking for new ways to leverage your content in schools or engage with young children and their families?
WriteReader provides its award-winning application, which has been proven to improve literacy by fostering children's creativity, as a SaaS (software-as-a-service) solution. Third parties can easily set up fully-branded and easily-managed experiences to quickly get to market.
Using the WriteReader White Label Solution, you can:
Teach children to read by enabling them to write, share, and publish their own digital books
Transform screen-time into a positive, active learning experience shared among friends and family
Provide an interactive, digital companion to more traditional publications and media
Enhance existing digital products or amplify your brand with a high- retention, engaging product
Publisher Case Study: Gyldendal Education
Challenge: Gyldendal is Denmark's largest educational publisher and was looking to add value to its paper-based, primary education curriculum. Schools have increasingly deployed computers/tablets and were actively seeking digital learning activities. This represented both a threat and an opportunity to the incumbent publisher.
Solution: After evaluating several alternatives, Gyldendal decided to use WriteReader's White Label Solution to power an early childhood literacy offering called "Skriv og læs" (Write and Read) which it made available as an add-on and a stand-alone product.
Success: More than 50% of all schools in Denmark now use "Write and Read." Teachers, administrators, and parents have been delighted with the increased student engagement and improved academic outcomes they are seeing through the use of this product. For Gyldendal, the WriteReader White Label Solution provided a quick, easy, and cost-effective way to retain customers and increase revenues by bringing a compelling digital experience to market.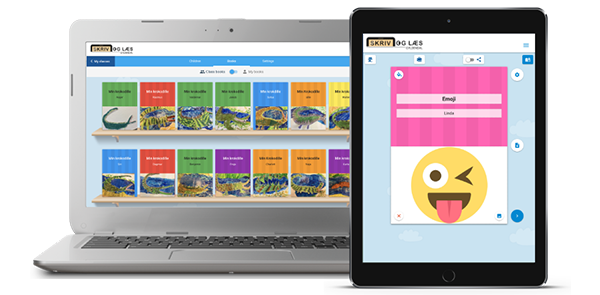 The WriteReader White Label Solution includes:
Branded online platform and book printing
Customized image bank
Full localization in any language
Analytics setup and user data reporting
Hosting and maintenance – no technical resources required
Integration with third-party logins, including Google Classroom
Support for major browsers and a fully-optimized mobile experience