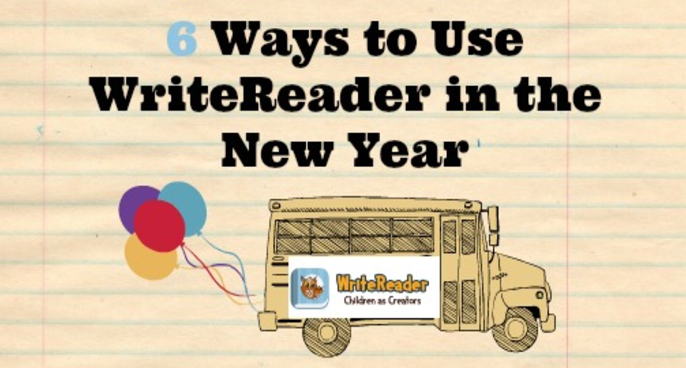 It's hard to believe it is already 2017! At this point in the school year, most of us are looking to try something new in the classroom to get kids (and ourselves) reenergized about learning! Yes, WriteReader is free and easy to use but it is also an awesome literacy tool that is scientifically proven to increase students' reading/writing level.
Now, it's even easier to use with the ability to add WriteReader to Google Classroom with a click of a button! Have no fear, G Suite for Education is not a necessity and WriteReader remains just as simple to use on the Chrome browser.
Below you will find a list of ideas you can use tomorrow in your K-5 classroom:
Write a story featuring your favorite cartoon or comic character.
Create an inspiration book that highlights five of your goals for 2017.
Write a book showcasing your favorite activities on a snow day.
Write and illustrate a song or a poem. Use one page per stanza and use the audio feature to record your masterpiece!
Conduct research on a historical or literary figure and create a book of their major accomplishments.
Make a recipe book of your favorite dish. Document the process using the photo feature.
Remember, once students create books, you have the ability to share them by publishing to the Kids' Library. Additionally, WriteReader now allows unlimited book downloading and printing.
Why would you want to have the ability to download and print a book?

Document student work and progress.
Share books with teachers, parents, and/or friends.
Books make a great gift and instill a sense of pride and motivation in students who become authors of their own creations.
As a teacher or parent, you can upgrade a book for unlimited printing and downloads.
Books that are upgraded for unlimited printing and downloads will be marked with a blue-star upgraded icon on the bookshelf. Anyone with access to the book will forever be able to print and download after the book is upgraded.
Per Book: $1.95 (all taxes included)
Per Class: $24.95 (all taxes included)
Teachers and parents can upgrade a class for a year, which upgrades all books created in a specific classroom (35 student limit) for unlimited printing and downloads.
Additionally, all books created within the same year of upgrading will be unlocked forever and will be marked with a blue-star upgraded icon on the bookshelf. All books created by the teacher associated with the class will also be upgraded.