From September 15th to October 15th every year, Hispanic Heritage Month is celebrated, presenting beautiful opportunities to delve into the history, traditions, and culture of Hispanic or Latinx people. WriteReader is an excellent platform to learn about these traditions, reflect on them, and preserve them for future generations.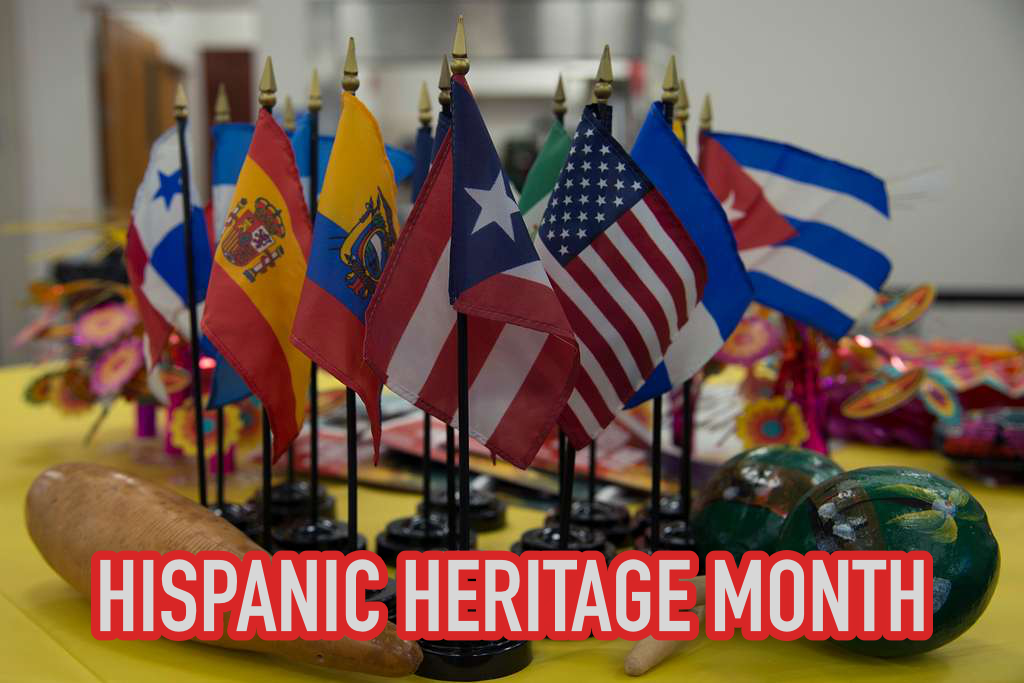 Preserving cultures through rituals and traditions
Latinx rituals are an essential part of the traditions and cultures of the Hispanic heritage. These rituals, interwoven through everyday lives, provide many Latinx people with a sense of identity and belonging. From Quinceañera to Las Posadas and Carnaval, Latinx culture is incredibly diverse, encompassing people from various countries and regions, each with unique identities and traditions.
Celebrating the dead and practicing bilingual writing
In the example below, a student has created a book about Día de los Muertos, or the Day of the Dead, and how her family celebrates it. She used the upload feature to add her own pictures for each page.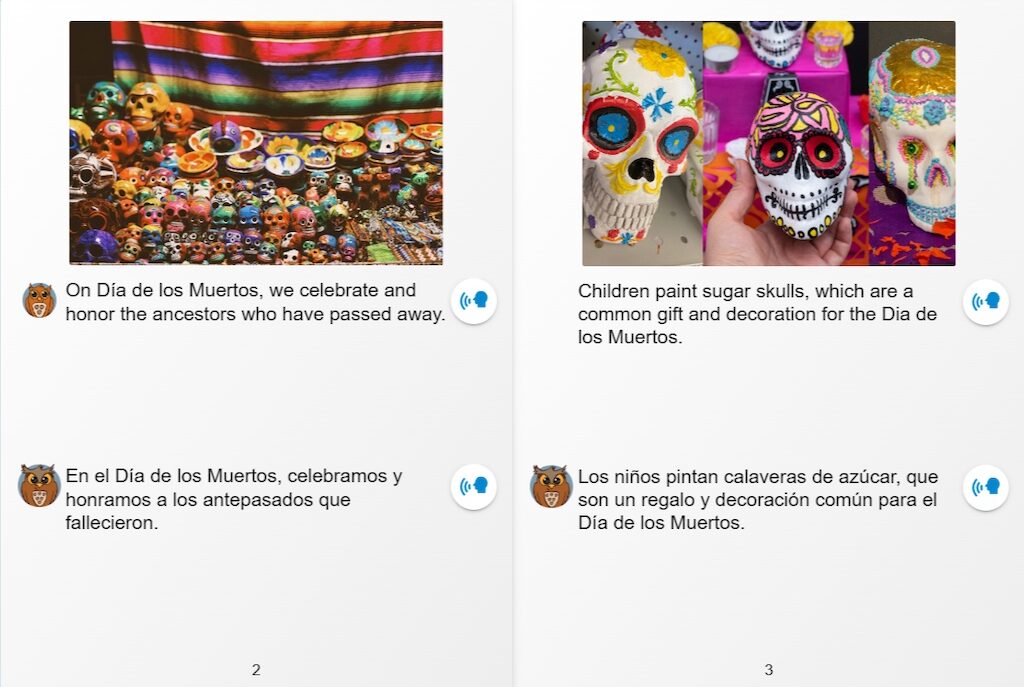 She used the multilingual feature to create her book in Spanish and English, with the text-to-speech feature for the correct pronunciations. She also used the callouts feature to add labels to each page, with the vocabulary word highlighted on each page, as shown in the example below.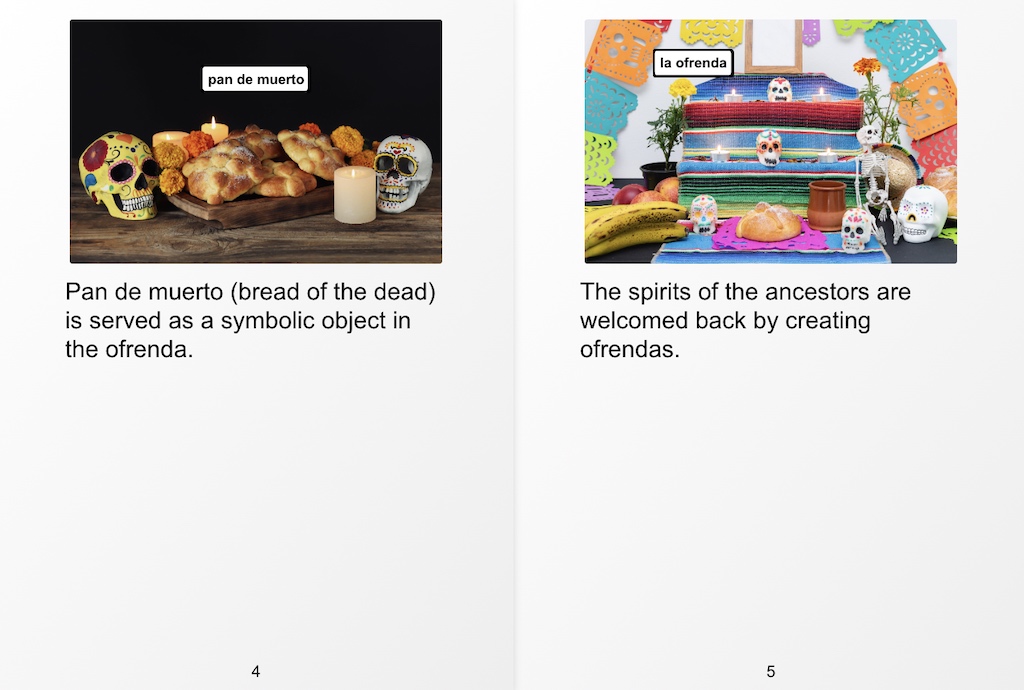 Read the book here.
Fan books and biographies
WriteReader can be used to create fan books and biographies. Giving learners the autonomy to choose what they want to write about lends itself to differentiating for your students, allowing them to create at their own ability level and pace.
Fan books can be student-created, and educators can use the educator text field to provide feedback using the TAG strategy.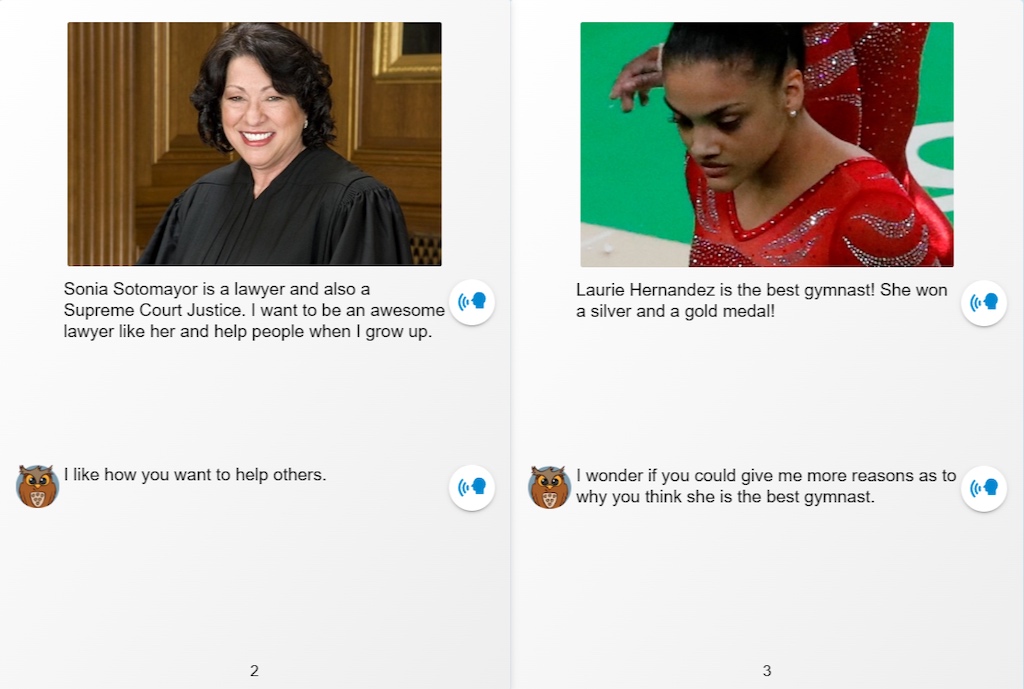 Consider using the educator text field to provide instructions or prompts that can be read aloud to students, create a word bank of related words to use in the story, or add notes about the student's writing.
Making connections through writing
It is important to focus not only on the history of Hispanic Heritage but also on the present and future. WriteReader provides a wonderful opportunity for students to create their own stories and share their experiences in their own families, and what their culture, traditions, and heritage mean to them.
You can provide your students with writing prompts to scaffold their literacy skills. Students can write about:
Traditional Hispanic Foods: Describe your favorite Hispanic dish. Include its ingredients and explain why you enjoy it.

Time Traveler's Journal: Imagine you have a time machine that can take you to any moment in Hispanic history. Where and when would you go, and what would you do there?

Dream Vacation: Plan your dream vacation to a Hispanic country. Describe the places you would visit, the food you would try, and the adventures you would have.

Community Heroes: Write about someone in your Hispanic community who inspires you. What do they do to make your community a better place?

Generations of Wisdom: Interview an older family member about their life and experiences. Write about the lessons and stories they shared with you.
Sharing is caring and preserving
Providing students with the opportunity to write about their families, heritage, and traditions helps them connect with writing and become inspired by the stories they tell. Allowing students to share these stories with others is an excellent way of preserving these achievements and traditions.
How do you plan to use WriteReader to encourage students to share their heritage, culture, and traditions? We would love to see what you and your students create! Tag us on social media using @writereaderapp.
Happy writing and reading!