Educators and parents who want to motivate and inspire kids with meaningful writing activities can find some interesting writing categories, questions, and prompts below.
My Family and Me
Write a book about yourself and your characteristics/interests
Add facts like age, height, hair and eye color.

Write about your main interests/hobbies and why.

Tell about your favorite food, clothes, color, number, etc.
Make a book about your family and friends
Take photos of people who are near and dear to you.

Write about your relationship with these people and tell a few things that characterize them. Get inspiration from the list above.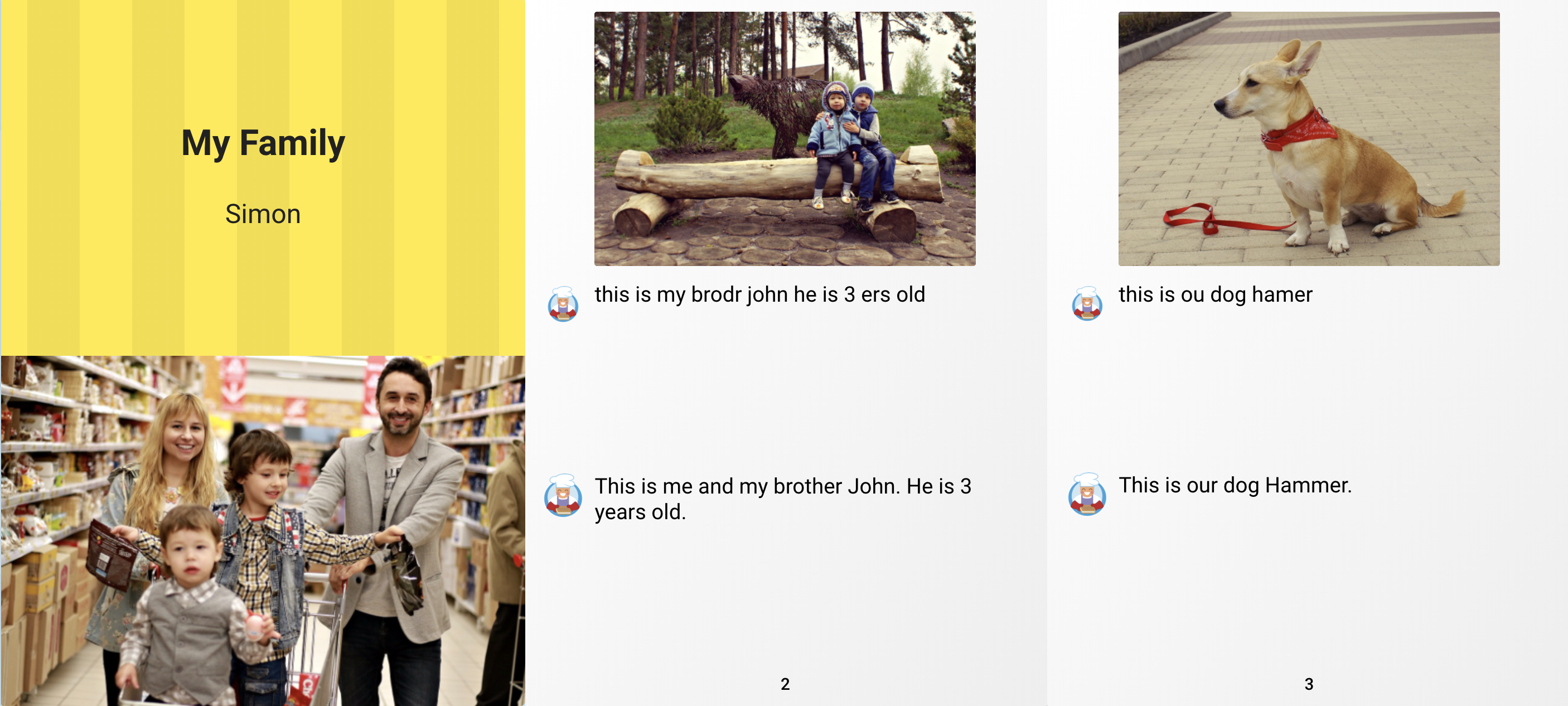 My Room and Toys
Take photos of your room and write about the things you like best
Why do you like those things? What do they mean to you?

How do you use your favorite things and with who?

When did you get them and who gave them to you?
Create your own toy story 
Make scenes with your toys; take pictures and create your own fiction story.

Make a few notes about the beginning, middle, and end of your story before writing your story.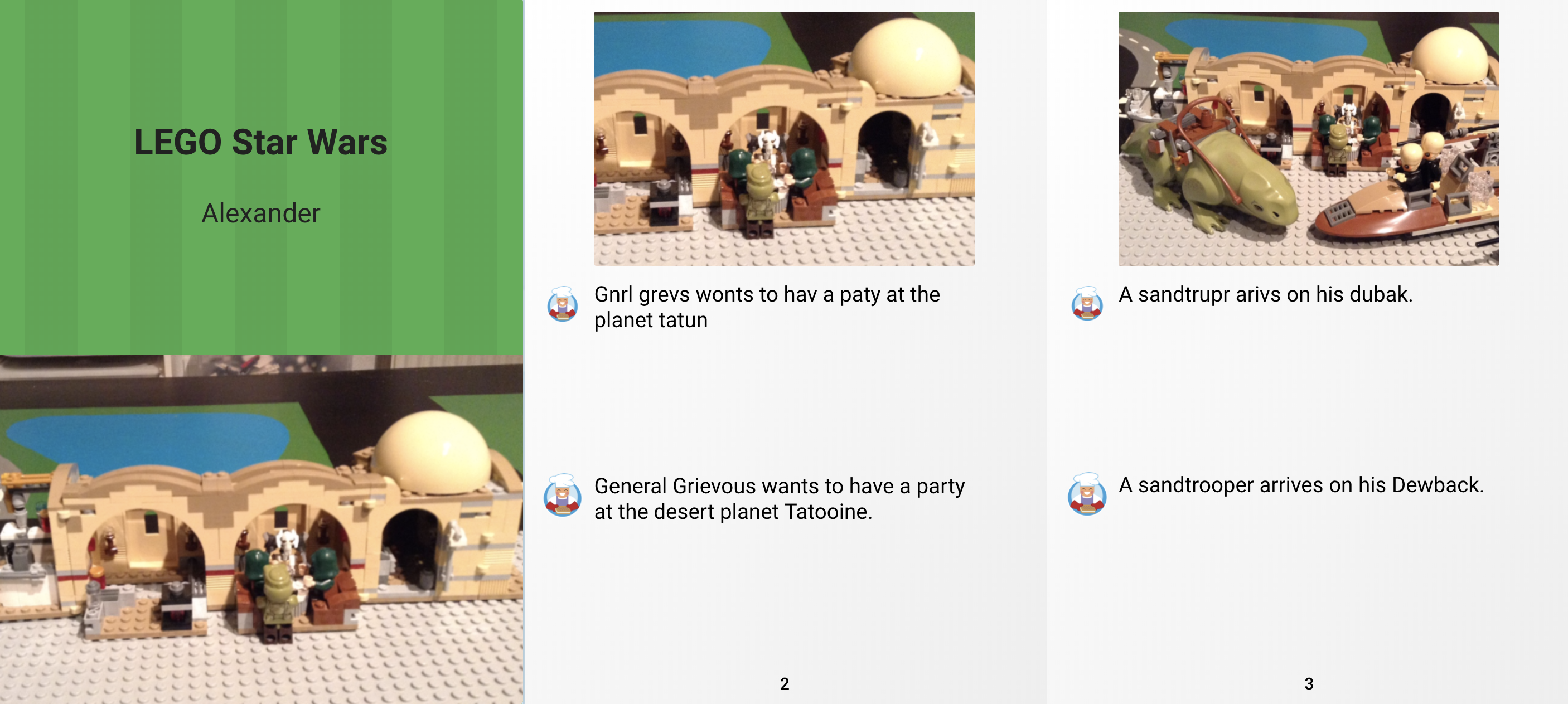 Holidays and family events
My vacation diary 
Take photos of what you experienced on your trip and write some text to go along with it.

Send your book(s) to friends or grandparents as a digital post card.
Write about great family celebrations/feasts and national holidays 
Make memory scrapbooks about special events in the family like birthdays, first day at school, babies, weddings, etc.

Take photos and write about what you do and with whom for holidays like Halloween, Thanksgiving, Valentine's Day, Easter, Independence Day, Christmas, etc.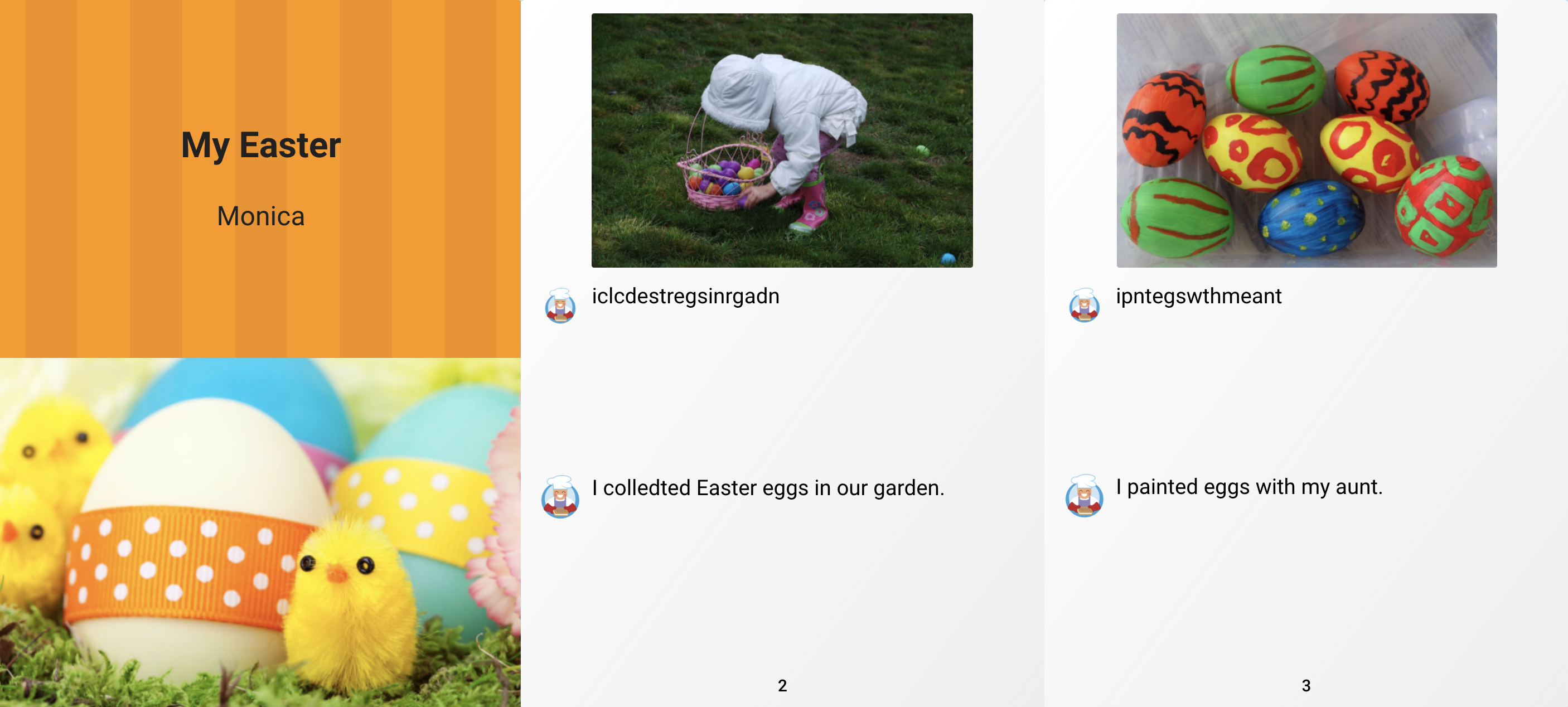 Manuals or cookbooks
Write your own "how-to" book
Take screenshots of your favorite games/programs and write about how to build your own world in Minecraft (for example), or how to create drawings or music on your computer.

Write a book about how to play your favorite board game, how to take care of your pet, or how to make a perfect braid. Write about anything that you are good at and that others can learn from you.
Cooking, baking, and writing
Make your favorite dish or cake and take photos along the way. Afterward, write your own cookbook and share it with friends and family.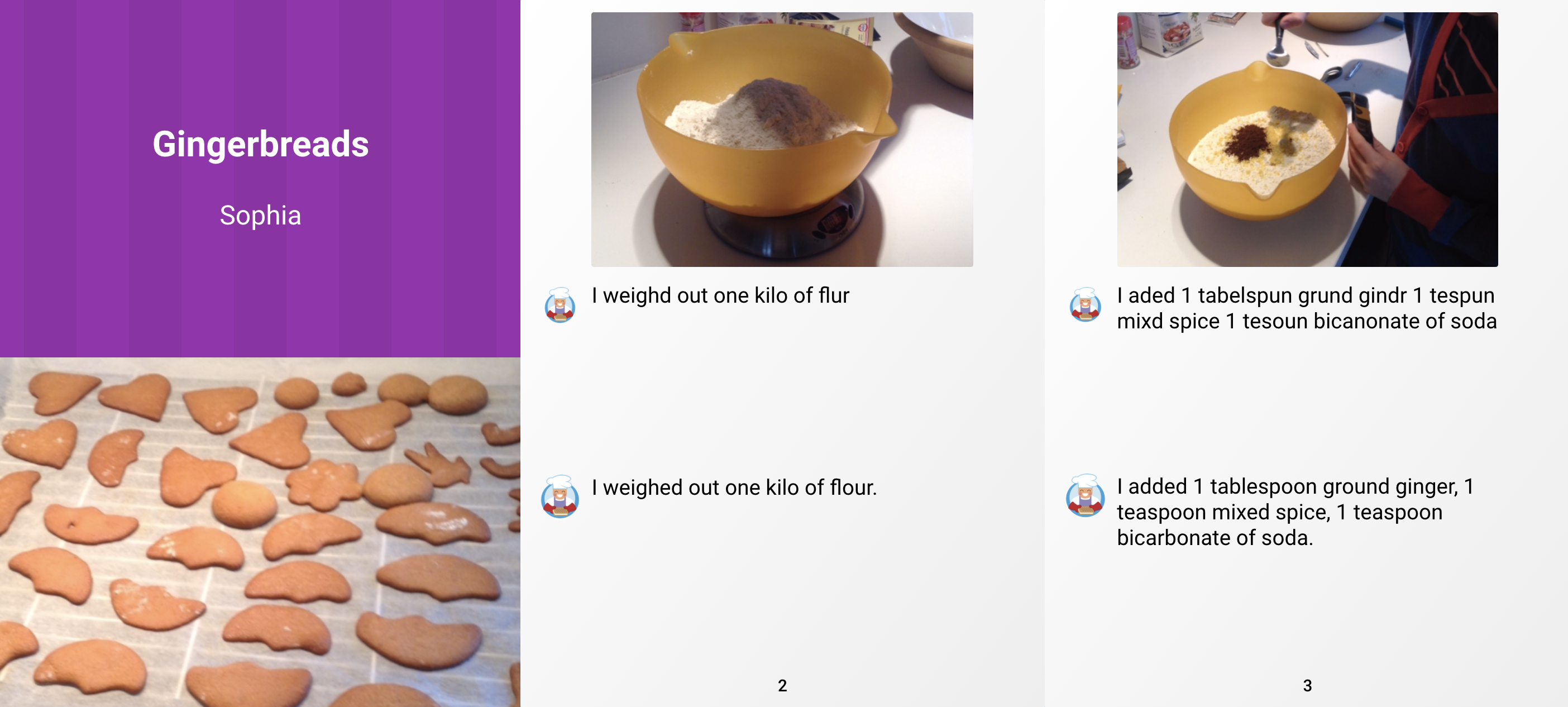 I like …
Write books about your idols and favorite teams/players
Search for images on the internet of your idols or take photos of your fan merchandise. Write a book with relevant info about your favorite singer, band, athlete, sports team, etc. 
Top 5 lists
Make books of personal top 5 lists. Add one image and one explanation per page for each thing on your list.

The lists can be about idols and favorite athletes/teams as mentioned above but also topics such as movies, books, games, food, candy, colors, animals, etc.
The image search functionality in the app can be useful to find images for a variety of top 5 lists.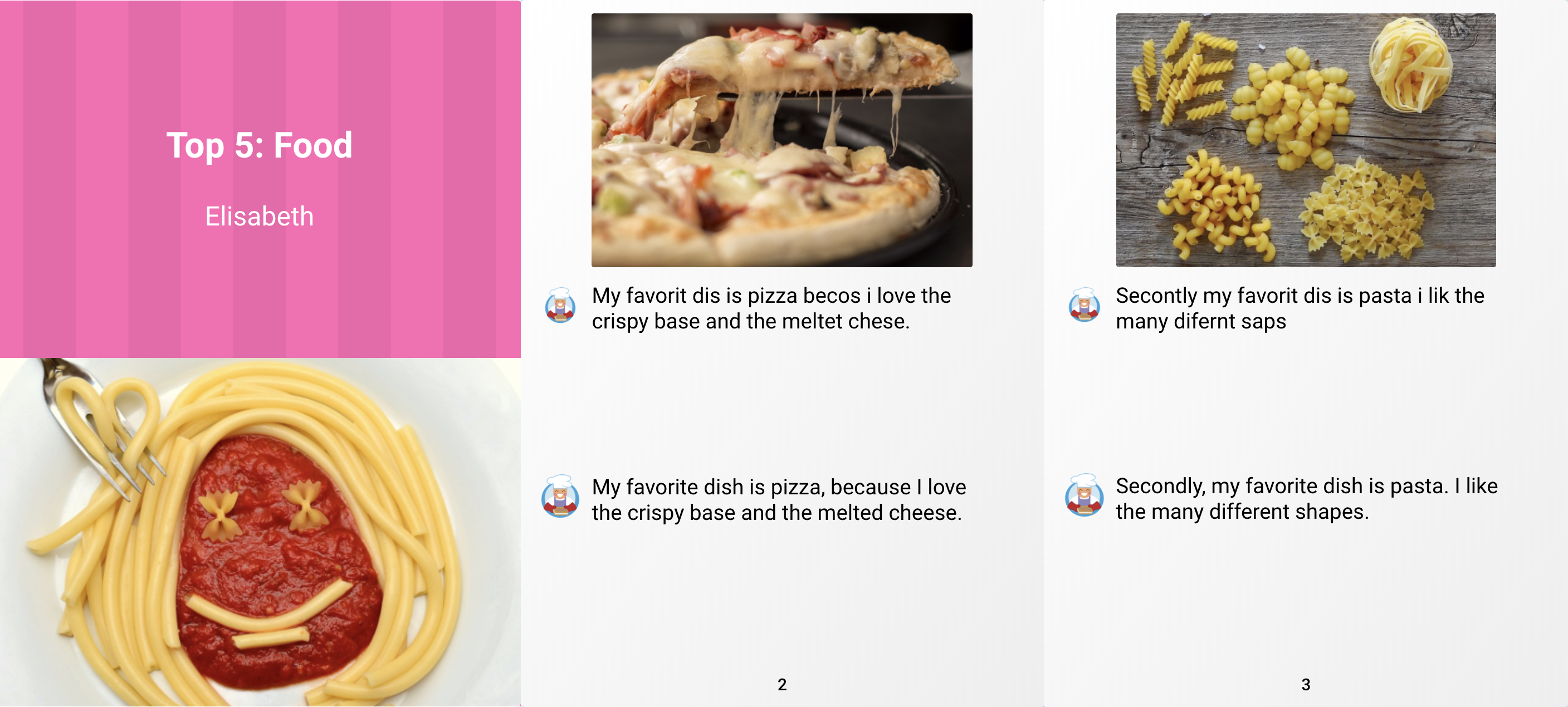 Alphabet and numbers
Write your own alphabet and number books
Make a page for every letter in the alphabet. Take a photo of things in your house starting with each letter. Write sentences to go along with it, such as "A is for apple."

Make a page for all the numbers from 1-20. Take photos of objects/people and write sentences like "I have 1 mother," "I have 2 rabbits," "My brother is 3 years old," and so on.