<![CDATA[
On New Year's Eve, there are many reflective speeches given by world leaders highlighting all the major events in their respective countries. The evening news always does a retrospective video montage of the year's highs and lows; and radio stations and MTV also do a countdown of the year's top songs. At the close of this year, we would also like to look back at some notable WriteReader posts from 2017.
One World, One Day
Emily Francis, an ELL teacher from North Carolina, shared projects that we thought were amazing. First, Emily and her ELL students received inspiration from reading the book,
One World, One Day
by Barbara Kerley. They talked about what they do in a day and then wrote about it. Using children's literature as a springboard for discussion and writing is best practice for building background knowledge and reinforcing it.

Taco Take-Over
Emily's students also created 'Taco Take-Over' books. They wrote about the different ingredients and how to make tacos. One of the objectives of this project was 'I can show my understanding of the text by sharing my learning,' which Emily reported was met. She also shared a heartwarming video of a student proudly reading his book from the SmartBoard. Emily wrote that it's important to 'empower (students) with tools that highlight their strengths.' They celebrated their learning with a taco lunch together. Yum!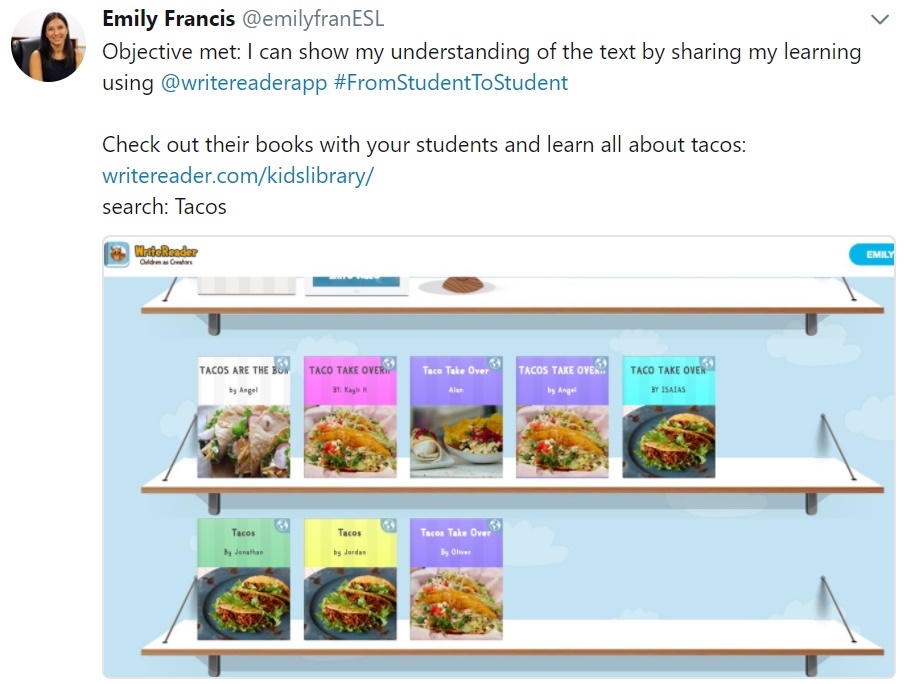 Stop Motion Videos
Katie Gardner, a Kindergarten ESL teacher from North Carolina, shared her students' stop motion video project on Twitter. The children created Lego characters and settings; then took pictures with their iPads; and finally created a stop motion video. After that, they wrote about their experience using sequencing words like first, then, next, and last. Katie surprised her students with color copies of their books. The looks on the children's faces were absolutely delightful! They were so excited and immediately began reading their books to one another.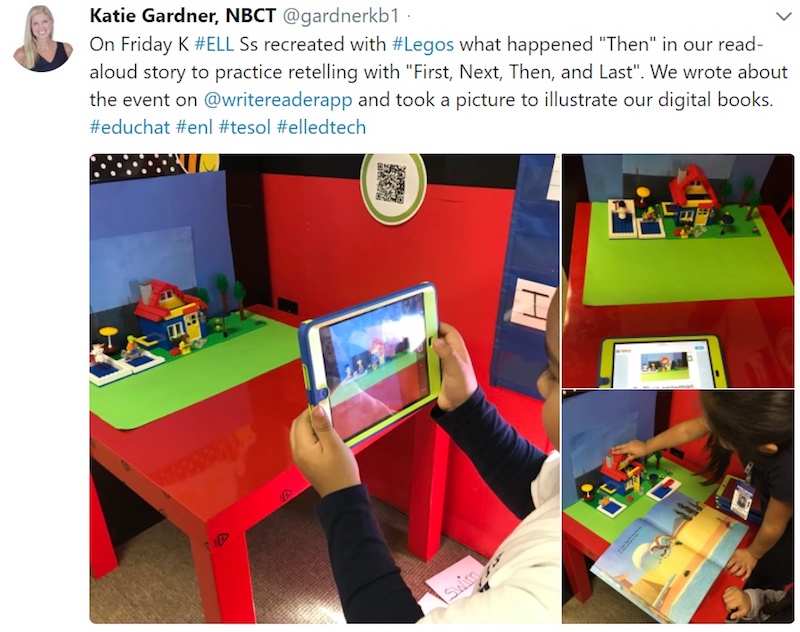 Fairy Tales
Katie also taught an ELL summer camp. One of their activities was to write a fairy tale. Once completed, the students dressed up like fairy tale characters and read their fairy tales aloud. Looks like the little princesses had a lot of fun!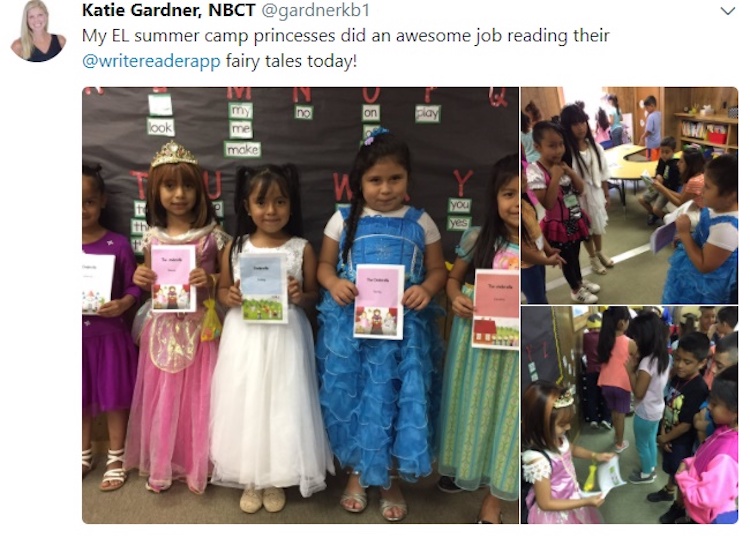 Successful Students
Marlo Diaz-Haupt is a 3rd grade teacher from California. Marlo's students worked collaboratively on a writing project, and they created a 'how-to' book. Their topic was 'How to Be a Successful Third Grader.'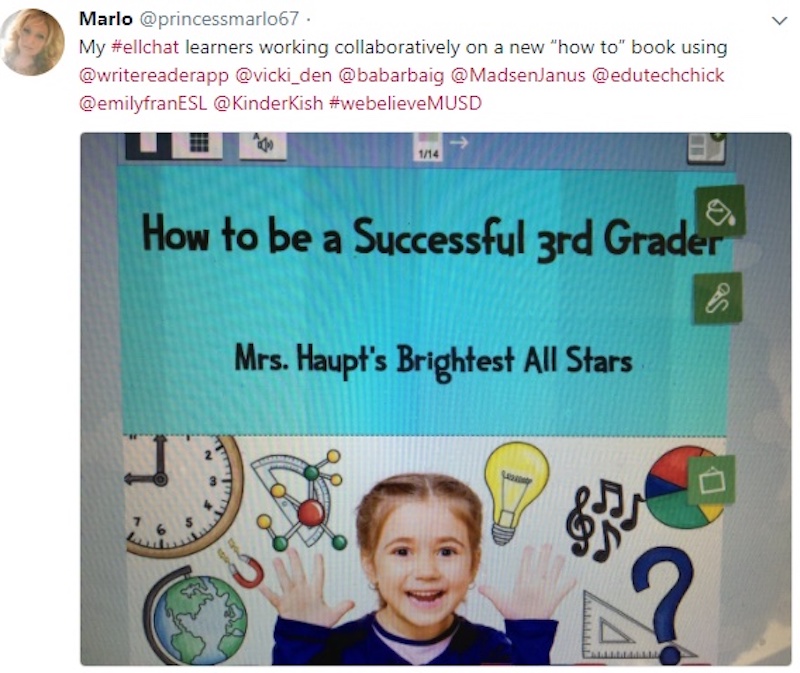 Students wrote such wonderful advice and affirmations. One student wrote, 'Successful students work hard to get good grades. You have to focus, listen, and watch.' Another student wrote, 'In order to be successful, you have to be kind to others.' We couldn't agree more. Mrs. Haupt's class really are bright all-stars!
Colorful Writers
Sharyn Kish is a Kindergarten teacher from Ohio, who actively connects with other teachers through social media. As a kindergarten teacher, she knows that it's never too soon to be building literacy skills with young children. Children arrive at school with varying levels of background knowledge and kindergarten is where some children are first introduced to the basics, such as the alphabet, colors, shapes, and numbers. Sharyn's students created color books by first drawing pictures, then printing the words, and finally typing them. They used sentence frames and created repetitive pattern books to reinforce word recognition. They wrote sentences such as, 'Hearts are red' and 'Cherries are red.' It's important to note that the students used inventive spelling, which was honored and encouraged by their teacher.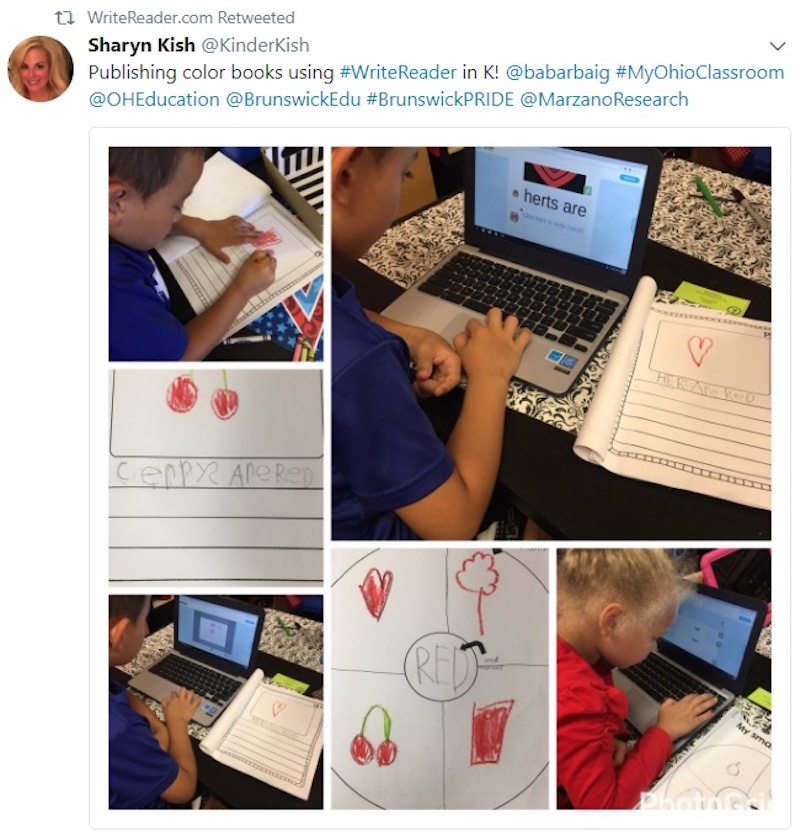 Cross-Curricular Writing
Sophia Garcia Smith, a 2nd grade teacher from Illinois, loves to use WriteReader. Her students created Science vocabulary books about scientific principles such as balance and motion. This is so important since limited vocabulary knowledge can negatively impact both reading and listening comprehension. Sophia's students uploaded their completed books to their Seesaw account. Digital portfolios are a great way to provide formative assessment (also known as assessment-for-learning) to parents. Sophia is looking forward to presenting at the ISTE 2018 Conference in Chicago, and we're excited for her!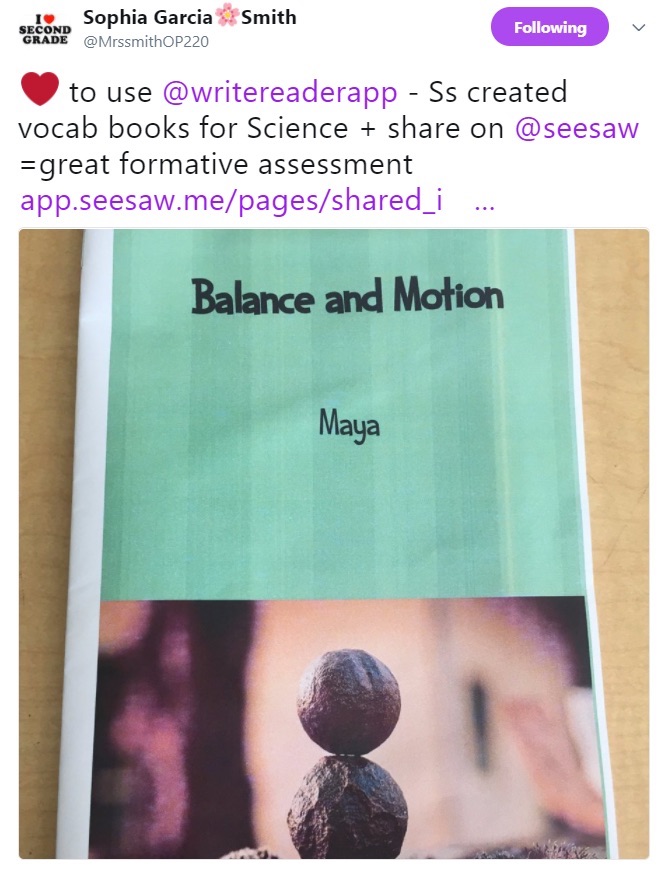 Peek-a-Boo Books
Vicki Den Ouden is a Reading Intervention teacher from British Columbia, Canada. She loves to share her ideas online with other teachers. One innovative idea was to create 'peek-a-boo' books as a way to add color to black & white copies and to make the books more interactive. For example, students who have mastered keyboard shortcuts, such as select, copy & paste, can copy jokes and riddles that they've found online; then paste the question and answer into their WriteReader books. The answer can be covered with a flap to make it a surprise to the reader. Kids love to read joke books over and over. This is a great way to 'hook' young readers and give them plenty of opportunity to practice their reading (and have a good laugh at the same time)!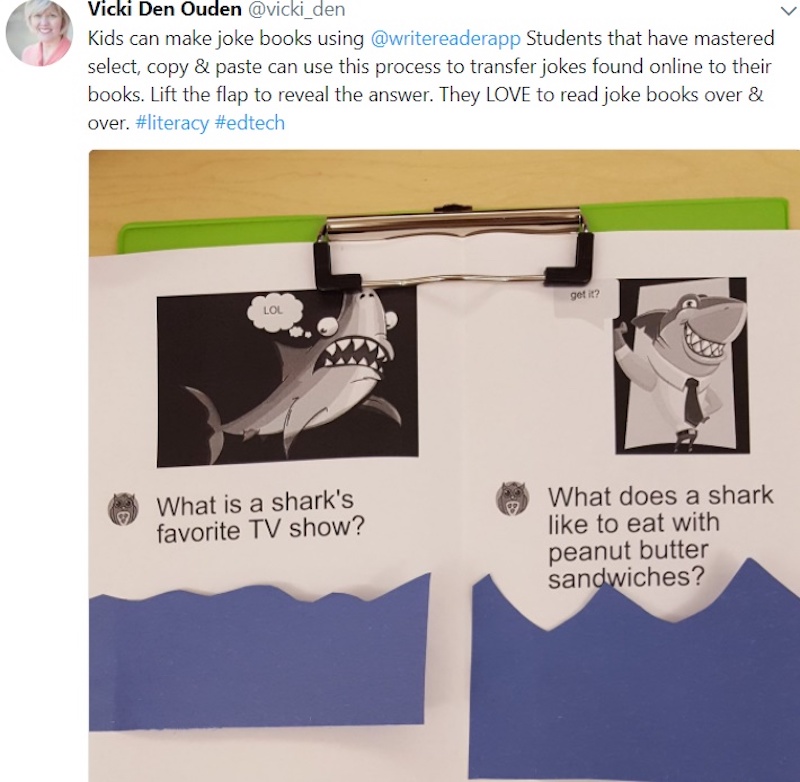 Vicki's students also created peek-a-boo books about Arctic animals and animal adaptations. By only partially covering the picture, children are led to use picture clues and context clues to make accurate word predictions while reading.
Thank You!
We are deeply moved and grateful for all the emails and social media posts that highlight WriteReader in schools, libraries, and homes around the world. And we're so impressed by the creative and effective teaching strategies of so many educators, librarians, and parents. Let's continue to work together in 2018 to fulfill our common vision of literacy for all young learners!