As teachers, we know the power of collaborative learning for our students. And it's equally important for us to teach collaboratively. Helen Keller said,
"Alone we can do so little; together we can do so much."
Another powerful quote to support collaborative teaching is by Mike Schmoker:
"Collaboration allows teachers to capture each other's fund of collective intelligence."
With this in mind, WriteReader has created the co-teacher feature, which you can access if you have a premium account.
What value does co-teaching give to teachers?
The value of co-teaching is to include colleagues who collaborate with you and to keep the writing of the students in your class all in one account. It allows for continuity of learning, no matter who the child is working with. Everyone is in the loop.
It also provides a digital portfolio for each student that all co-teachers can access. This provides a wonderful collection of work samples for formative assessment and progress of the students. It gives clues to everyone involved as to the instruction that each student needs and different people have the option to provide feedback. Digitally stored samples of their literacy development are on students' "bookshelves" to help guide you in your assessment and reporting, which can be viewed anywhere at any time. Not only are we sharing our expertise but we're also sharing the workload.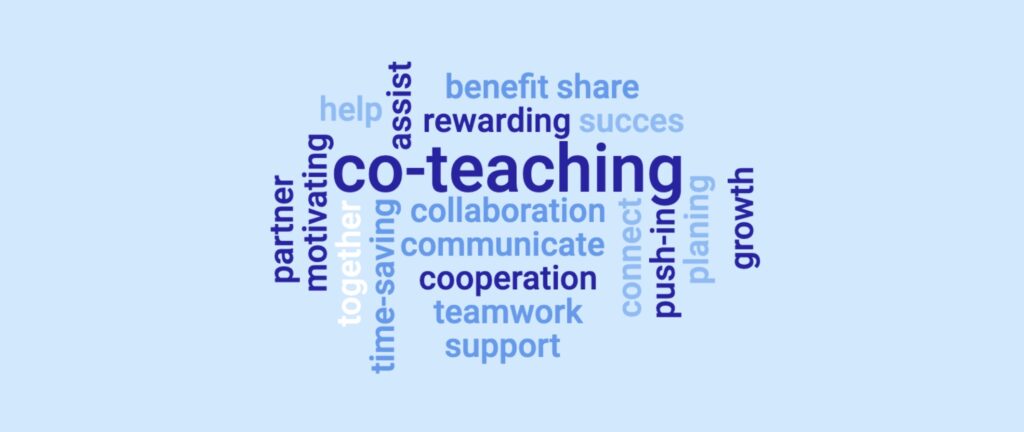 Who could be added as co-teachers?
There are many people who are part of the learner support team. Three co-teachers can be added to every teacher account. One teacher can be added to several classrooms and will still be counted as one teacher. Some of your choices for co-teachers might include:
School librarians

ELL teachers

Your job-share partner

Buddy class teacher

Reading Intervention teachers

Integrated Technology teacher

Learning Assistance or Resource teachers

Speech & Language Pathologist (SLP)

Other classroom teachers in your cohort or learning community

Long-term substitute teachers (eg. parental leave)

How can the co-teachers best help you and support your students' learning?
Co-teachers can log into WriteReader to assist you with:
Cross-curricular content

Assessment

Edit and provide feedback 

Create book templates 

Launching or completing a project that is part of your curriculum

Assisting students with reading, spelling, vocabulary, and written form

Modifying the assignment to fit your students' individual needs

Analyzing students' writing to guide their own lessons 

How do I add co-teachers?
Log into your WriteReader account. (Not relevant if you use Google Classroom as co-teachers are automatically imported from your Google Classroom set up) 

Click on the word "Users" (next to "Bookshelf") on the blue toolbar at the top of the screen.

Click the blue Add (+) button in the Co-teachers section.

Type their email address in the pop-up box and click "Invite."

The co-teacher will receive an invitation email from you with a link.

The co-teacher clicks the link in the invitation email.

Following the link will lead the co-teacher to a page where they should:

Log in with their existing account – the co-teacher is led to this page if they have an existing account

Create a new account with the invited email address – the co-teacher is led to this page if they do not have an existing account.

Once the co-teacher is logged in, or has created a new account, they will have access to the class.

Collaborative Teaching
There's no need to go it alone. By including other teachers in our planning and teaching practice, we grow as teachers and multiply our efforts in best serving our students.
"The most valuable resource that all teachers have is each other. Without collaboration, our growth is limited to our own perspectives." (Robert John Meehan)