By Sophia Garcia-Smith, 2nd Grade Teacher, Twitter: @MrssmithOP220

There are so many things that I love about WriteReader. The phonetic and letter sound feature to help struggling writers sound out their words. The simple kid-friendly image search. The way that the teacher and student work together on the same document to edit and add details to their writing. The joy that comes from a student when their work is published and shared with so many.
WriteReader already has a feature that publishes your student work to a global audience but with a Seesaw blog and connected classrooms in place, I was excited to see how easy it is to download and share with everyone. Seesaw is a student-driven digital portfolio that connects parents, families, classrooms and the world to showcase student work. Our class uses Seesaw to share our learning with so many. Seesaw has so many resources to help you get started, you can find them here: https://help.seesaw.me/hc/en-us
I am going to walk you through the process of creating on WriteReader and sharing in Seesaw.
Students will create in WriteReader, again this is so easy and kid-friendly, your class will be creating in no time at all.
When they have completed their writing you can click on the print and download button (you will have to upgrade your account for $24.95 for a full calendar year or $1.95 for a single book – you will receive unlimited downloads and prints) THIS IS SO WORTH IT!
Select the paper size, full page or booklet format and included text. Then select print or download. If you are downloading into Seesaw select download.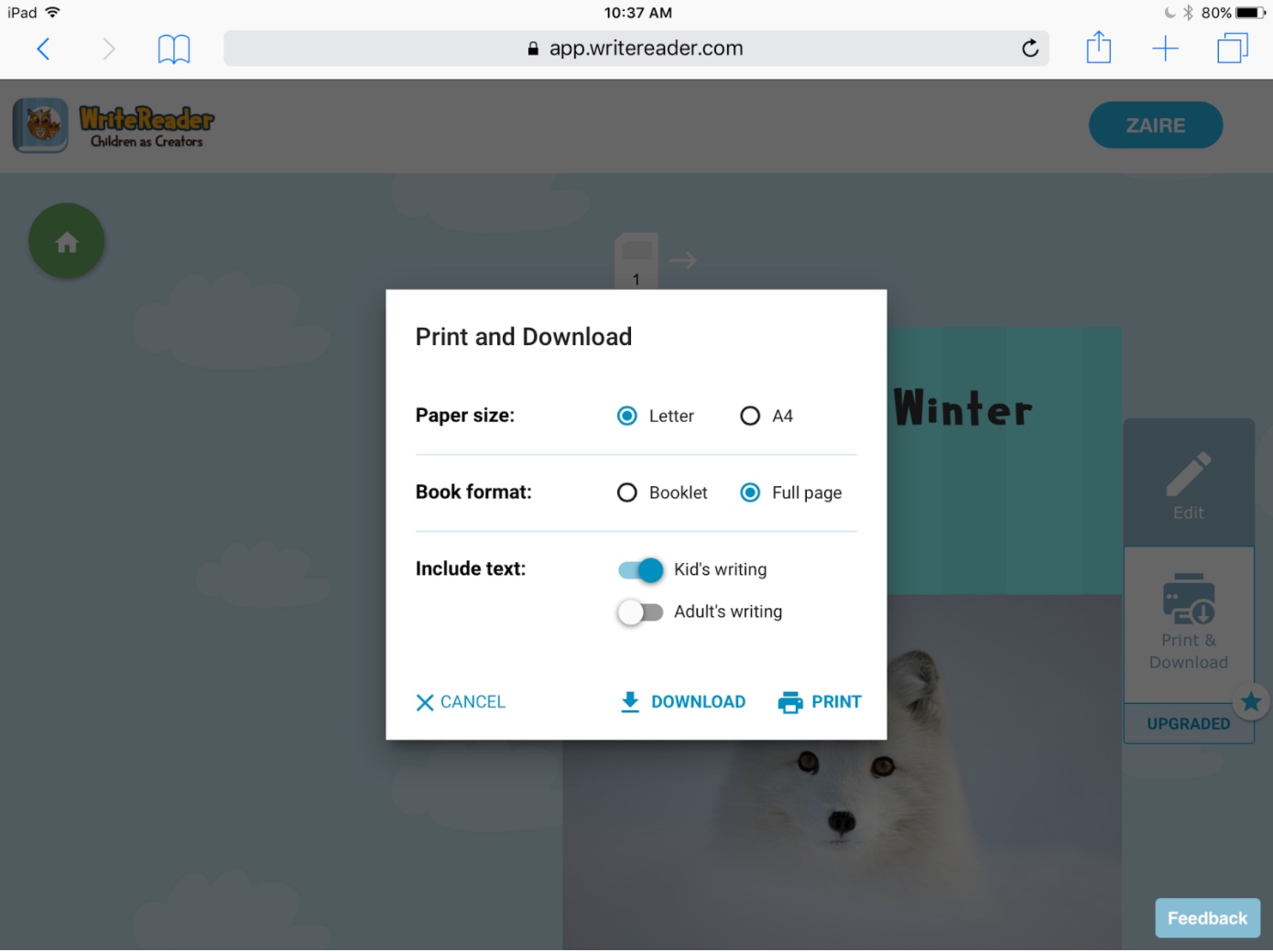 Once the pages are downloaded you will use the 'share' button at the top of the page. This will open up the options you can download to. If Seesaw does not automatically open, you can click more and enable Seesaw.

Seesaw will ask if the item should be added to 'student's name' (it would be the person who is signed in on that device). Then it will prepare to upload and then show a confirmation that it was uploaded.

In those 4 simple steps your student's work can be shared in your Seesaw Journal and then into your Seesaw blog if you wish! So simple and easy to share with the world! Our classroom has also printed these books and placed them in our classroom or school library to share with others. The more you share your student's work the more pride they take in their work, knowing that so many will be seeing it.