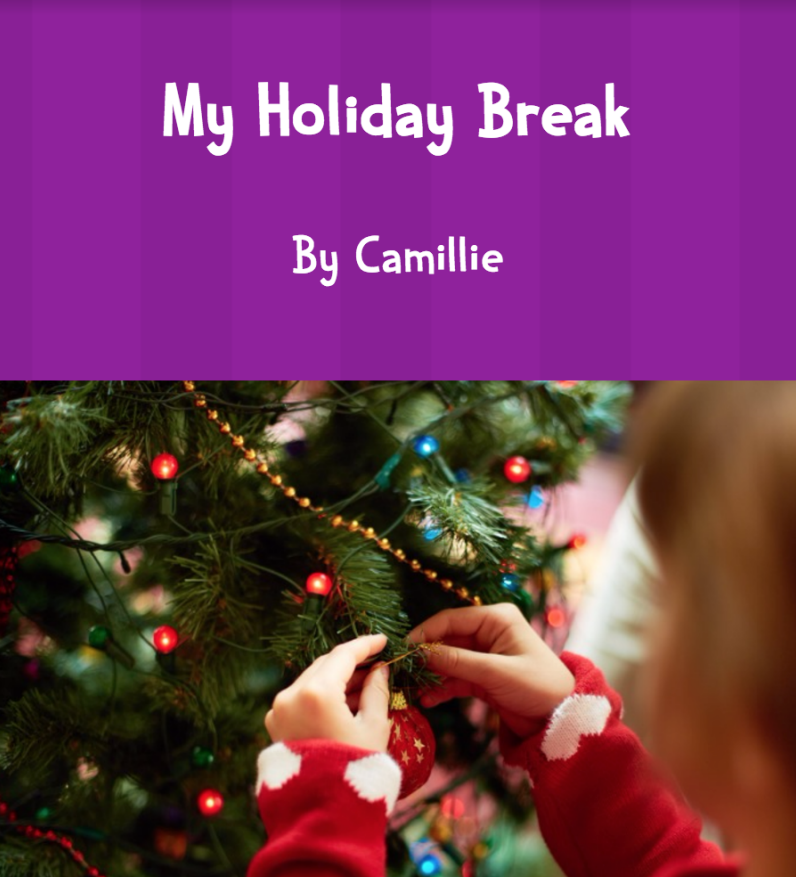 Dear Teachers and Parents,
WriteReader hopes that everyone had a fantastic holiday season! Headed back to school can be hard after a vacation! Consider continuing the excitement of the holidays by using WriteReader in your classrooms and home to reflect on the best parts of vacation.
We hope that the following ideas will inspire you and your students/children to use WriteReader for writing books to capture and reflect on the holiday spirit in class or at home.

My Holiday Break
Document your holiday break by taking pictures and writing a book!
Some ideas on what you can include in your book are:
Holiday decorations
Family traditions/activities
Holiday food and gifts
Holiday guests or trip/travel
Additional Considerations for Holiday Break Books:
Make sure to print your book when you are finished.
Pack away your book with the holiday decorations to find next year. It will be fun to read it again and remember the fun things you did!
Consider creating a page a day of the highlights!
Do not feel limited by just one of the topics above; feel free to document your holiday however you'd like.

A Holiday Story
Want your students to get creative this holiday season? Have them write a fictional holiday story and illustrate it with their own drawings or Google images.
Consider using holiday characters from popular stories (Santa Claus, the Gingerbread Man, a Snowman, Rudolf the Red-Nosed Reindeer, etc.) or invent your own characters!
Here are some story starters:
'I looked out the window and …'
'One day in December .'
'On Christmas Eve .'
Additional Considerations for Holiday Stories:
Teachers can provide students with a vocabulary list that they must include in their stories.
Students should read their stories to their younger siblings or another class in a lower grade level.
Holiday stories can be printed and displayed in your school media center.
Don't forget to share your holiday stories with the WriteReader team!