<![CDATA[
Makerspace is a huge trend in education today. It can be as low tech as creating cardboard towns or as high tech as coding and robotics. Makerspace enables all children to participate in hands-on learning. It also acknowledges a child's natural inclination toward imagination and play. But don't stop there – integrate the making with reading and writing.
What's a Doodlebot?
Here's an idea for a fun makerspace project. You can make a doodlebot (also known as a wigglebot) with your class! It's a precursor to more high-tech robots like Ozobots. Children will be experimenting with motors, batteries, electricity, balance, weight, and vibration. There are lots of examples on Pinterest and YouTube about various types of doodlebots. Just do a search.
This plan for a doodlebot is quite simple. (see photo below) You will need:
a square Tupperware container
4 markers
duct tape
an old or cheap electric toothbrush

You might need to wedge a coin or button in between the handle and the container to get the toothbrush head as close as you can to the Tupperware, since that's where the motor is. You also need to make sure that it is off-balance. Think of a washing machine where all the towels end up on one side and then it begins bouncing around like crazy. That's what you want . lots of vibration. As the doodlebot vibrates, it will move across the paper and create squiggles and doodles.
Play Inspires Creative Thinking
After playing around with it and creating abstract art, the kids in this class decorated it as a cow, since they had cow patterned duct tape. They even named her Clara the Cow! The googly eyes move around like crazy too when it's turned on. You can decorate it however you choose. Get input from the kids and use what's available. Lots of questioning, discussion, and laughter will occur throughout each phase, and the play will inspire more creative thinking. The student can pick it up and move it to other parts of a long sheet of paper. They can also set up an obstacle course to see if they can change the direction, and experiment with colour combos. While some students continue to create more doodles, others can begin writing about their experience with WriteReader.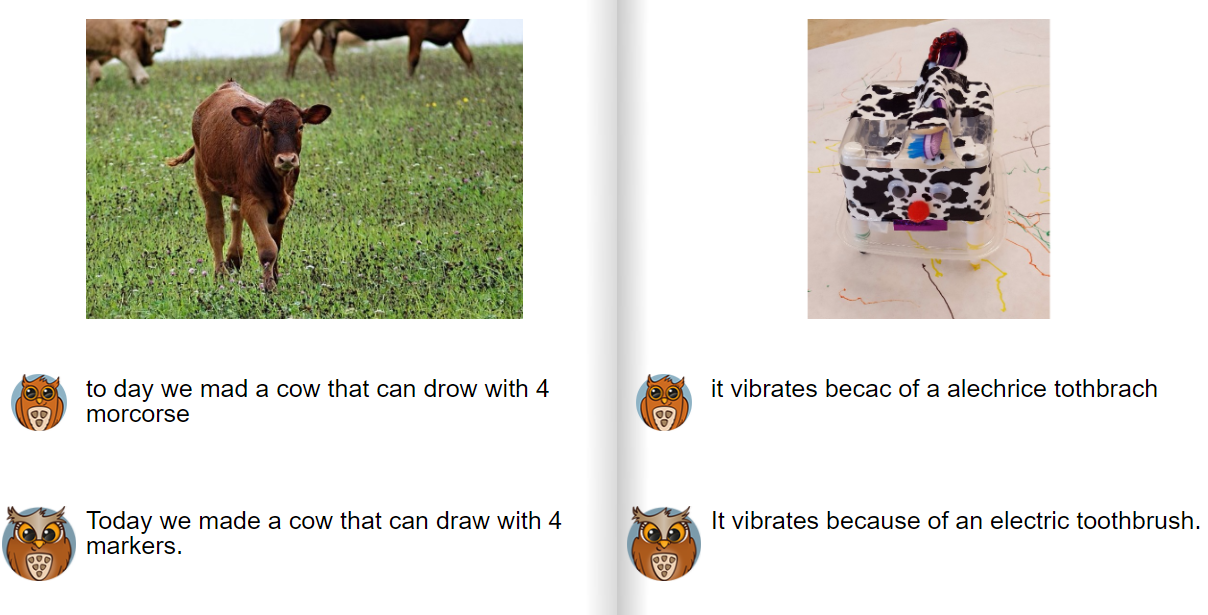 Students might wish to create fiction stories based on the wigglebot. It might be about a robot invasion or they could characterize the bot based on how you decorated it. It could also be a science notebook. What did they learn about vibration and balance? What does it make them wonder about? Or they could simply retell what they did and give a description of the bot. When using WriteReader, be sure to add either writing feedback or 'adult spelling' (conventional) in the adult writing section, print or publish their work, and have the students read it to you or someone else. Two great things about WriteReader is that it provides young writers with a simple digital format to express their ideas and learning, and it also helps to improve their reading fluency. Children are better able to predict words (even challenging ones) because they are reading their own writing, which is based on their lived experience (schema).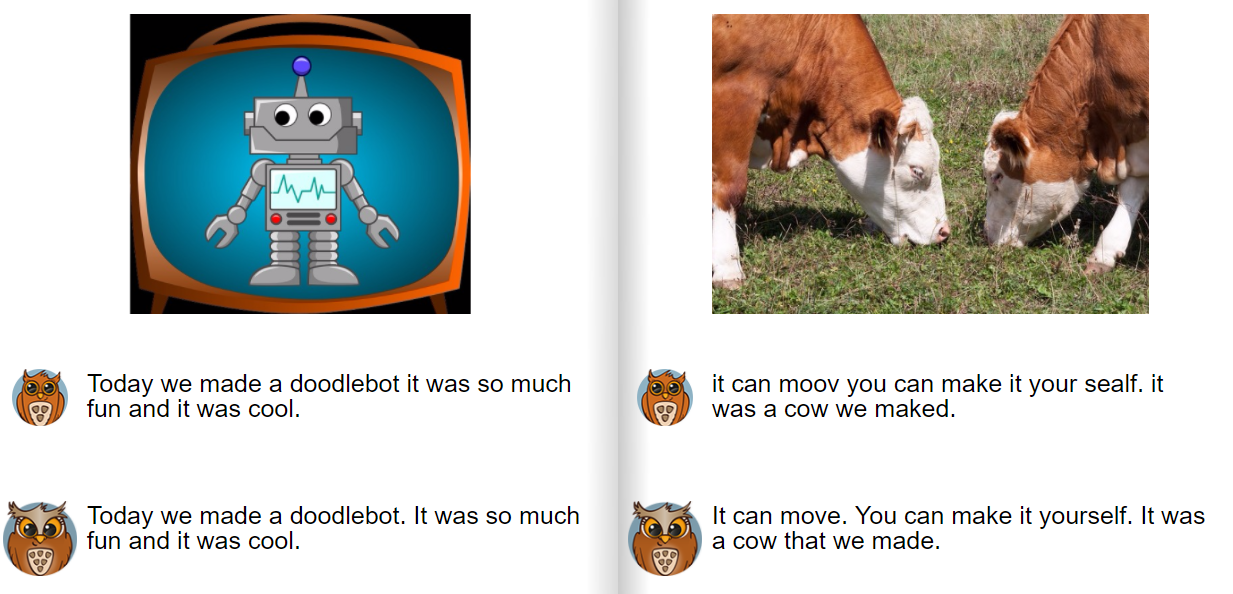 Innovative Learning Experiences
Throughout the week, you can draw more out of this experience. Write down some inquiry questions that arise from the children's interest and curiosity. Integrate storybooks, such as The Most Magnificent Thing by Ashley Spires and A Squiggly Story by Andrew Larsen. Continue the cycle of making, reading, and writing.
Isn't writing just that . a series of doodles and squiggles that we've assigned meaning to? Children have the desire to express and communicate. We see this from the first time he draws a picture with a crayon, when she begins to write letters with pencil and paper, or uses inventive spelling with a keyboard. Children are also naturally curious, imaginative, and creative. Let's foster that by providing innovative learning experiences for them. Please share photos of your makerspace and WriteReader projects with us on Facebook and Twitter! We love to see the creative thinking of students, parents, and teachers.