<![CDATA[
We all have different inner and outer qualities that make us special, and it's important for children to recognize this. Research regarding the social-emotional core competencies informs us that positive self-awareness promotes better choices and pro-social behaviors. So, it's equally important for adults to affirm each child's uniqueness.
For this reason, we've created a lesson plan called "All About Me," which is especially geared towards Pre-K to Grade 1 children. Our lesson plan gives ideas for fun activities while integrating social-emotional learning (SEL) with emergent literacy development.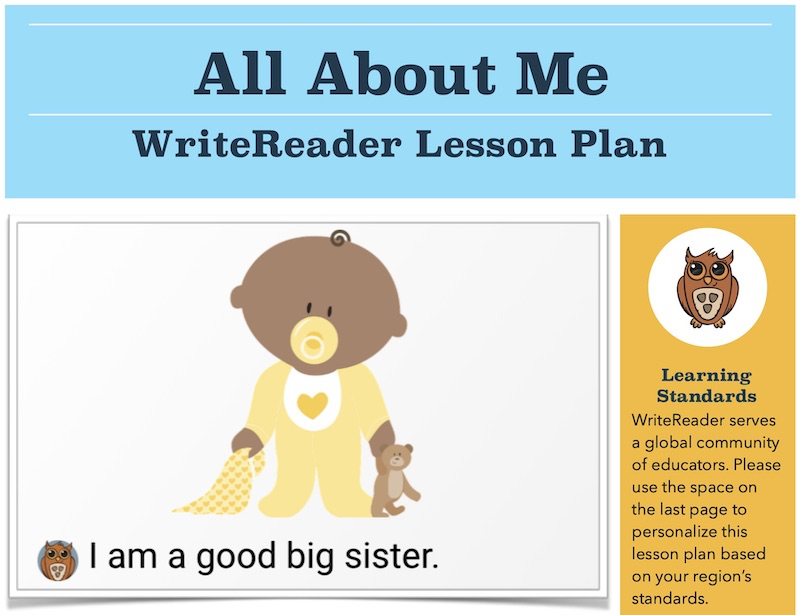 Self-Awareness
Children develop a positive self-identity through acknowledgement and praise of their personality traits. The adults in their lives need to create interactions and experiences where they shine in these areas. It's also important to make children aware of all the other positives in their lives, such as family, community, language, and culture, that shapes who they are and who they will become. In addition to this, children must become more self-aware of their place in the world in relation to others, which can contribute to the development of pro-social behaviors. The suggested activities in this lesson plan will help you to build positive self-identity and self-awareness in young children.
Building Background Knowledge
Writing skills are developed in connection to all five strands of the Language Arts curriculum (reading, writing, speaking, listening, viewing). Be sure to include all of these strands in your lessons, especially before entering the writing phase. The pre-writing phase section of our 'All About Me' lesson plan gives you lots of ideas on how to access prior knowledge and build background knowledge, such as creating themed book displays, read-alouds, object mini-lessons, discussion, and drawing.
Creating Successful Writing Opportunities
Keep in mind that this lesson plan is geared towards pre-school to first grade children. Therefore, it's important to plan for success ahead of time. Show the children how to use the record and the key sounds features in WriteReader. Plan to have have older buddy classes, parent helpers, or learning support teachers/assistants on hand to provide maximum support. Encourage free writing so that they can write about everything that they discussed during the pre-writing activities without worrying about spelling. Print large sentence frames (I am . / I can .) on the board and provide a word bank or word wall for students who may be beyond the early emergent stage of writing. Keep it simple and just focus on the three learning objectives in the lesson plan: creating repetitive pattern books about themselves and others to develop positive self-identity and self-awareness. 'Proper' spelling is not one of the learning targets.
Sharing the Learning
After the students have written their books, you may wish to print them or they can be shared in digital format. Children can engage in shared reading with other students and adults. Our lesson plan suggests different ways for you to pair your students. If you decide to print the WriteReader books, you can place them in book bins for read-to-self times or as an option for home reading. A third option is to create a binder with QR codes. Students can use iPads to scan these codes to read each other's books over and over.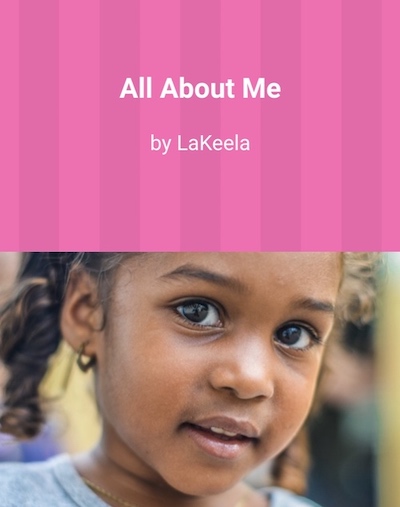 Customization
Like our other lesson plans, you are able to customize elements of this plan too. Download the plan to your computer first and then you will be able to add your own relevant information, such as your regional standards, modifications, and assessment within the fillable fields.
Growth
There are unlimited opportunities to help a child develop a positive self-identity and self-awareness through speaking, reading, and writing. We hope that your young learners will enjoy the activities in our 'All About Me' lesson plan as they grow in their social-emotional skills.