GETTING STARTED WITH WRITEREADER
20th January 4 pm ET/10 pm CET (30 min.)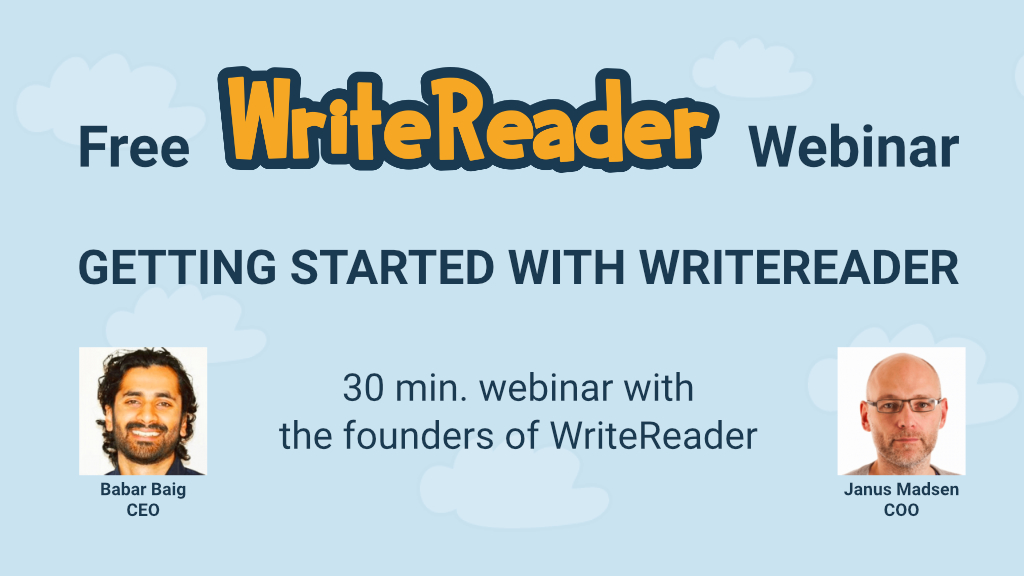 Sharing points
How to get started with WriteReader
How to set up class and students
Google Classroom integration
Basic book creation features
How to provide feedback & other premium features
Remote learning inspiration
PAST: DEVELOPING ALL LANGUAGE DOMAINS WITH WRITEREADER 
13th January 4 pm ET/10 pm CET (45 min.)

Sharing points
Confirming Existence – Choosing Compelling Text
Tips for choosing text that validates and confirms students' backgrounds and cultures. 
Scaffolding Reading – Intentional Support to Read the Text
A variety of strategies to make text comprehensible and fun (input).
Scaffolding Writing – Meet students Where they are
Meet students at their writing level but provide strategies to encourage a higher level of writing (output). 
Publishing – Get Students Excited an Authentic Audience
Intentionally showing students the audience they can inspire and teach with their published book using WriteReader.
Bio
Astrid Emily Francis is an English as a Second Language teacher at Concord High School in Concord, North Carolina. She serves students in 9th-12th grade with various English proficiency levels. Previously, Emily was an ESL teacher, at W.M. Irvin Elementary School, Concord, North Carolina. Emily's experience as an English Language Learner inspired her to become an ESL teacher and affords her a deep understanding of the challenges her students must overcome to find success. Emily earned a BA in Spanish, and a MAT in ESL from UNC-Charlotte. She serves as a professional development facilitator, motivational speaker, and Keynote. Emily is a Team member of Confianza LLC and forms part of the Executive Board of Carolina TESOL. 
Recording of webinar