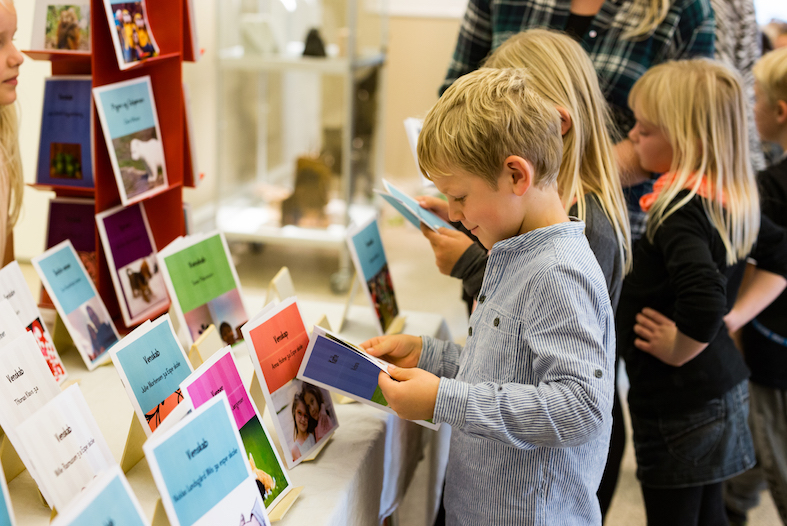 A small municipality in the middle of Denmark bought 3.000 Chromebooks for their students in 2015. As the newly purchased computers were to be implemented for meaningful learning the municipality decided to kickstart a project where all primary schools pupils for a period of 3 weeks would produce their own books with the learning tool WriteReader.
The project ended with a big book fair at the local library where the printed out books were presented.
In short the project made more than 800 children from 6 to 9 years authors of their own books.
The chilren's books at the library
Pia Smidt, Children culture coordinator at the library tells enthusiastically about the project:
'It's a big thing that 800 children in so many schools and have been sitting writing their own books. Of couse it's not 800 thick books, but it's real books with frontpage, backpage and a good story in between. We're happy to be able to borrow out the books so that all can read the stories that the children have carried inside their heads.'
There has been great creativity and variation in the children's books. There books about friendship, sports stars, hobbies, pets, fairytales and many other topics which interest the children.

New teaching with new technology
Rasmus Kirsch Bork, leading school IT and responsible for the educational implementation of the purchased Chrombooks tells about the project:
'We must support the teachers in the use of the Chromebooks in their classes. Writereader is one of the many initiatives where we help systemizing and develop new ways to teach new technology. The Chromebook opens up news perspectives in learning where the students develop competences to participate in and form the 21st century and to become active citizens in the society of the future.'
The project was such a succes that there are chances for it to be repeated in 2016 and maybe to become a recurring event in the municipality.
As as closing remark is should be noted that the project beneficially be made in smaller scale. At the individual school or class the children can write books that are then being registered at the school library and be borrowed by other students.
The project was documented in this video